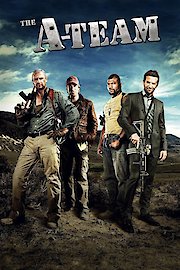 Watch The A-Team
"There Is No Plan B"
NYR
2010
47
The A-Team is an action-packed movie from 2010 that follows the adventures of a highly skilled group of soldiers-turned-mercenaries. The movie stars Liam Neeson as Colonel John 'Hannibal' Smith, Bradley Cooper as Lt. Templeton 'Face' Peck, Sharlto Copley as Captain 'Howling Mad' Murdock, and Quinton Jackson as Sergeant Bosco 'B.A.' Baracus.
The movie begins with the team serving in the United States Army Special Forces and working together on a mission to retrieve stolen US treasury plates from Iraqi insurgents. After a successful mission, the team returns to base where they are betrayed by a corrupt officer and falsely accused of stealing the plates themselves. The team is dishonorably discharged and sentenced to prison.
Years later, and still protesting their innocence, the team is given a chance to clear their names when they are approached by a CIA agent named Lynch (Patrick Wilson). Lynch offers to help the team clear their names if they complete a mission for him. The mission involves retrieving a set of US treasury plates that have been stolen by a private security firm. The plates are being used to print billions of dollars in counterfeit money that could destabilize the world's economy.
The team accepts Lynch's offer and, after breaking out of prison, they set out on their mission. Along the way, they encounter a number of obstacles and enemies, including a rival mercenary team and the private security firm that stole the plates. The team uses all their skills and special abilities to overcome these obstacles and complete their mission.
As the movie progresses, the team uncovers a conspiracy involving Lynch and other high-ranking officials. They realize that they have been set up and that Lynch has no intention of clearing their names. The team must find a way to complete their mission and take down those responsible for framing them.
Overall, The A-Team is an exciting and action-packed movie that features a talented cast and a thrilling plot. The movie blends humor and action seamlessly and keeps the audience on the edge of their seats throughout its runtime. Liam Neeson, Bradley Cooper, Sharlto Copley, and Quinton Jackson all deliver engaging performances that make the audience root for their characters. The movie also features explosive set-pieces and impressive special effects that add to the excitement of the story. If you're a fan of action movies and thrilling adventures, then The A-Team is definitely worth watching.
The A-Team is a 2010 thriller. It has received mostly poor reviews from critics and viewers, who have given it an IMDb score of 6.7 and a MetaScore of 47.