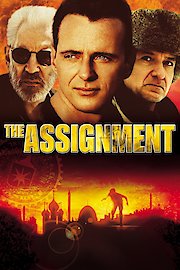 Watch The Assignment
R
1997
1 hr 59 min
The Assignment from 1997 is a thrilling crime movie directed by Christian Duguay. The movie stars Aidan Quinn, Donald Sutherland, and Ben Kingsley, who deliver strong performances throughout the film. The film opens with a scene of an international terrorist group led by a notorious criminal, Carlos "The Jackal" Sanchez. He is pursued by an American agent, Anna Lewis (Aidan Quinn), who has been assigned to catch him by any means necessary. However, things take an unexpected turn when Lewis is captured by Carlos and subjected to a controversial experiment that will change her life forever.
Carlos and his team of scientists have devised a plan to turn Lewis into a man. They surgically alter her body to make her more masculine and then give her hormones to alter her voice and body hair. They also give her a new identity as a man, Frank Kitchen. The idea is that Frank Kitchen will infiltrate the American government and spy on their activities.
However, things don't go according to plan. Once Frank Kitchen is created, he becomes the target of a group of people seeking revenge on him for past transgressions. These people take advantage of Frank's new identity to try and kill him, and he finds himself on the run from both his own government and those seeking his death.
The story becomes even more complex when both Carlos and Lewis's employer, Dr. Rachel Jane (Donald Sutherland), begin to question their own motives and the morality of their actions. As the film progresses, the audience is left to wonder who will succeed in the end and what the ultimate outcome will be for Frank Kitchen.
The Assignment explores themes of identity, gender, and morality in a way that was groundbreaking for the time of its release. The film is thought-provoking and full of intense, action-packed moments that keep the audience on the edge of their seats.
One of the film's strengths is its excellent cast. Aidan Quinn delivers a superb performance as both Anna Lewis and Frank Kitchen. He manages to convey the complexity of the character's journey and brings both authenticity and depth to the role. Ben Kingsley is also impressive as Carlos "The Jackal" Sanchez, bringing a sense of danger and intrigue to the character that is compelling to watch. Donald Sutherland delivers as always, bringing his acting chops to the table as the conflicted Dr. Rachel Jane.
Another aspect of the film that stands out is its cinematography. The film is shot in a way that emphasizes the grit and violence of the story, with dark and shadowy visuals that add to the film's overall tone of danger and intrigue.
Overall, The Assignment is an intense and thought-provoking film that is well worth watching. Its exploration of complex themes and the excellent performances by its talented cast make it a standout in the genre.
The Assignment is a 1997 thriller with a runtime of 1 hour and 59 minutes. It has received mostly positive reviews from critics and viewers, who have given it an IMDb score of 6.8.