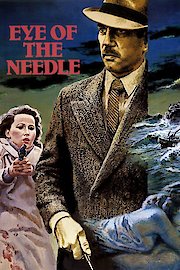 Watch Eye of the Needle
"To love a stranger is easy. To kill a lover is not."
R
1981
1 hr 52 min
61
Eye of the Needle is a thrilling and suspenseful movie from 1981, directed by Richard Marquand and starring Donald Sutherland, Kate Nelligan, and Stephen MacKenna. The film is based on a novel of the same name by Ken Follett and tells the story of a German spy named Henry Faber during World War II. Donald Sutherland gives a brilliant performance as Henry Faber, a German spy with the codename "The Needle" due to his use of a stiletto as his weapon of choice. Faber is tasked with gathering information on the British military's preparations for D-Day, a mission that could turn the tide of the war in Germany's favor. However, when he accidentally kills a woman who discovers his true identity, Faber becomes a wanted man and must flee to a remote Scottish island.
While on the island, Faber meets a woman named Lucy (Kate Nelligan) and her disabled husband (Christopher Cazenove). Lucy is immediately drawn to Faber's charming and charismatic demeanor, and the two begin a passionate affair. However, Lucy soon discovers Faber's true identity and must decide whether to turn him over to the authorities or help him escape.
As the film unfolds, the tension builds as British intelligence officers led by MI5 man Godliman (Ian Bannen) close in on Faber's location. Meanwhile, Lucy must navigate her feelings for Faber and her loyalty to her country.
Eye of the Needle is a beautifully shot film, with stunning coastal landscapes and a haunting and atmospheric score by Miklos Rozsa. The film's pacing is excellent, with suspenseful set pieces and emotional character moments interweaved to create a satisfying whole.
One of the strengths of the film is the relationship between Faber and Lucy. Sutherland and Nelligan have excellent chemistry, and their scenes together are both passionate and emotionally complex. The film doesn't shy away from portraying the difficult choices that love can sometimes force us to make, and the scenes between Faber and Lucy are among the film's most memorable.
Stephen MacKenna delivers a compelling performance as Faber's handler, a Nazi officer named Von Neumann. MacKenna imbues the character with a quiet intensity, and his scenes with Sutherland are some of the film's best.
Overall, Eye of the Needle is an engrossing and suspenseful thriller with standout performances by its lead actors. The film is a testament to the power of well-crafted suspense and effective storytelling, and it remains a classic of the genre to this day.
In conclusion, Eye of the Needle is a must-watch film for fans of suspense and spy thrillers, and it showcases the talents of some of Hollywood's most accomplished actors. Whether you're a fan of Donald Sutherland, Kate Nelligan, or just excellent storytelling, this film is sure to entertain and captivate you from start to finish.
Eye of the Needle is a 1981 drama with a runtime of 1 hour and 52 minutes. It has received moderate reviews from critics and viewers, who have given it an IMDb score of 7.1 and a MetaScore of 61.