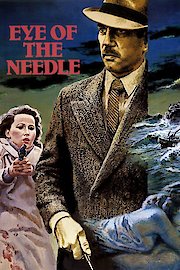 Watch Eye of the Needle
"To love a stranger is easy. To kill a lover is not."
R
1981
1 hr 52 min
61
Eye of the Needle is the 1980 spy drama about WWII German agent Henry Faber (Donald Sutherland), code named "The Needle," who is on a mission to gain information about the allies troops and transmit it to Germany. Henry murders several people who get close to uncovering his plans with a stiletto blade, which is his weapon of choice. In the meantime, RAF pilot David Rose (Christopher Cazanove) and his new bride Lucy (Kate Nelligan) are celebrating their recent marriage. While leaving the church, David races his car at a high speed and goes over an embankment. Lucy is injured in the accident but David loses the use of his legs. A couple of years later, Henry is able to get close enough to an allied airfield to see that it is a merely bogus set up. He now has information about D-Day, which he needs to transmit to his superiors. Henry kills several more military personnel and police officers while attempting get back to Germany. The trail of dead bodies leads the MI6, headed by Inspector Godliman, (Ian Bannen) to Aberdeen, Scotland. As a violent storm rages, Henry paddles out a small raft to meet a U-boat. Instead, his boat crashes ashore on Storm Island. He arrives at the home of David and Lucy, who along with thier young son Jo (Jonathon Haley) live on the island. Lucy is in a loveless marriage with David, who is now a bitter, wheelchair bound drunk. Lucy and Henry embark on an affair, which is soon discovered by David. He also discovers that Henry is not who he claims to be. After a confrontation, Henry kills David by pushing him over a cliff. Kate also uncovers Henry's deception, and attempts to thwart his transmissions to Germany from the local lighthouse. As Henry awaits a boat for pickup, he is chased to and shot dead by Lucy.