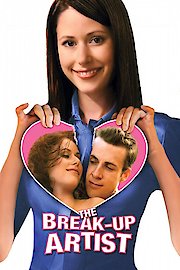 Watch The Break-Up Artist
"Breaking up is easy to do!"
PG-13
2009
1 hr 33 min
The Break-Up Artist is a romantic comedy film that revolves around the life of a girl named Britney (Amanda Crew), who has a unique talent for breaking up couples. Britney works as a professional break-up artist, who helps her clients to break up with their partners in the most seamless and most painless manner possible. She is exceptionally skilled when it comes to breaking hearts, which makes her the go-to person for anyone who wants to end their relationship on good terms.
The movie starts with Britney getting a new client, Dave (Ryan Kennedy), who wants to break up with his long-time girlfriend, Julia (Moneca Delain). Despite the initial resistance from Julia, Britney eventually manages to convince her to break up with Dave. However, things take a turn when Dave and Julia end up getting back together, and Britney realizes that there is more to love than just breaking up couples.
As the story progresses, we see Britney struggling to deal with her emotions as she starts falling in love with Dave. She tries to suppress her feelings by focusing on her work, but it eventually gets the best of her. The situation becomes more complicated when she finds out that Dave is not just her client, but also her next-door neighbor.
Throughout the movie, we see Britney going through a roller-coaster of emotions as she tries to navigate her way through her feelings for Dave while still maintaining her professional image. She struggles to decide between following her heart and continuing with her job, adding to the already complicated situation.
The chemistry between the lead actors is impressive and makes the movie engaging and entertaining to watch. The performances by Amanda Crew, Ryan Kennedy, and Moneca Delain are praiseworthy, making the characters feel relatable and authentic. The directors have done an excellent job of balancing the emotions and humor, making it an enjoyable experience for the viewers.
Overall, The Break-Up Artist is a heartwarming romantic comedy that will make you laugh and cry in equal measure. The movie is perfect for anyone who loves a good romance and wants to be entertained while still taking a few valuable lessons about love and relationships. It is a must-watch for anyone who enjoys the genre and is looking for a feel-good movie that will leave them smiling.
The Break-Up Artist is a 2009 comedy with a runtime of 1 hour and 33 minutes. It has received mostly poor reviews from critics and viewers, who have given it an IMDb score of 4.8.