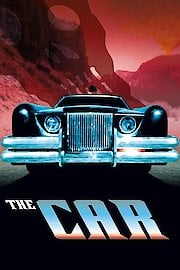 Watch The Car
"What evil drives..."
PG
1977
1 hr 36 min
21
The Car is a 1977 thriller movie directed by Elliot Silverstein and starring James Brolin, Kathleen Lloyd, and John Marley. The movie is centered in and around a small desert town, which is put under siege by a seemingly autonomous and evil car. The movie begins with a mysterious black car speeding through the desert, terrorizing and killing pedestrians and animals that happen to be in its way. The car soon sets its sights on the peaceful town of Santa Ynez, where it begins to unleash its wrath. The townspeople are completely caught off guard and begin to fall victim to the car's murderous rampage.
Chief Deputy Wade Parent (played by James Brolin) is put in charge of investigating the car and stopping it before it can cause any more havoc. He initially writes off the whole affair as some sort of prank by local miscreants, but soon realizes that there is something much more sinister at play.
Kathleen Lloyd plays Lauren Humphries, a schoolteacher who catches the eye of Wade. She becomes a key player in the story as the car begins to focus its attacks on her. Lauren's gritty determination and strength are put to the test as she tries to evade the car and survive its attacks.
John Marley plays Everett, the wealthy and powerful town patriarch who is hell-bent on putting a stop to the car. Everett sees the car's attacks as a personal affront and sets out to rid the town of the menace once and for all. He brings in experts to try to stop the car, but ultimately it is Everett's own inventiveness and cunning that proves to be the key to stopping the evil machine.
The Car is not just a thrilling and suspenseful movie, it is also a metaphor for the powerlessness of the human race against technology. The car is depicted as being almost supernatural in its ability to destroy anything and everything in its way. The townspeople are left feeling helpless against the car's complete disregard for their humanity.
The cinematography of the movie is excellent, with beautiful aerial shots of the desert landscape and fast-paced car chase scenes that leave the audience on the edge of their seats. The score of the movie is also notable, with a haunting and eerie musical theme that perfectly complements the dark and foreboding tone of the movie.
In conclusion, The Car is an excellent thriller movie that will keep you on the edge of your seat from beginning to end. With a talented cast and expert direction, it is a must-see film for anyone who loves suspenseful and thrilling movies.
The Car is a 1977 horror movie with a runtime of 1 hour and 36 minutes. It has received poor reviews from critics and viewers, who have given it an IMDb score of 6.1 and a MetaScore of 21.