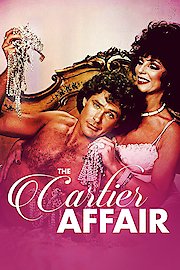 Watch The Cartier Affair
"His only hope is to steal her jewels... Before she steals his heart!"
NR
1984
1 hr 36 min
The Cartier Affair is a 1984 crime thriller movie directed by Russ Mayberry and produced by Robert A. Papazian. The movie stars Joan Collins, David Hasselhoff, and Ed Lauter in lead roles. The movie revolves around the theft of a priceless diamond necklace, known as the Cartier Collection, and the ensuing investigation to recover the stolen jewels.
The movie begins with the introduction of the beautiful and glamorous Fontaine Khaled, played by Joan Collins, who is a wealthy socialite and the owner of the Cartier Collection. Fontaine is known for her luxurious lifestyle, but she's also involved in illegal gambling and drug dealing, which leads to her husband's murder.
Meanwhile, David Hasselhoff plays the role of Scott Weston, an undercover cop who is tasked with investigating Fontaine and her criminal activities. Scott soon becomes romantically involved with Fontaine, which complicates his mission to bring her to justice.
The plot thickens when Fontaine's ex-lover, Alex (Ed Lauter), who is also involved in her criminal enterprise, steals the Cartier Collection and flees the country with it. Fontaine hires Scott to retrieve the stolen jewels and bring them back to her. However, Scott soon realizes that Fontaine is as much a criminal as Alex, and he decides to take a different approach to solve the case.
Throughout the movie, there are several twists and turns, with Scott and Fontaine playing cat and mouse with each other. The movie depicts the lavish lifestyles of the rich and famous, with extravagant parties and luxurious settings.
The Cartier Affair is a classic 1980s thriller, with the perfect blend of action, drama, romance, and suspense. The movie showcases the talents of the lead actors, with Joan Collins delivering a stellar performance as the charismatic and scheming Fontaine. David Hasselhoff, too, is impressive as the suave and charming detective, and Ed Lauter's portrayal of Alex adds an element of danger and intrigue.
The movie also features a memorable score by renowned composer John Addison, which perfectly captures the mood and tone of the film. The Cartier Affair is a stylish and entertaining crime thriller that will keep you on the edge of your seat until the very end.
In conclusion, The Cartier Affair is a must-watch movie for fans of 1980s crime thrillers. With a stellar cast, a gripping plot, and stunning cinematography, this movie has all the elements of a classic Hollywood hit.
The Cartier Affair is a 1984 tv movie with a runtime of 1 hour and 36 minutes. It has received mostly poor reviews from critics and viewers, who have given it an IMDb score of 5.0.