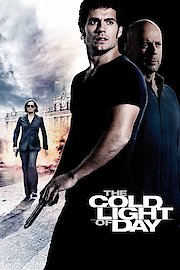 Watch The Cold Light of Day
"Instinct is his greatest weapon."
PG-13
2012
1 hr 33 min
22
The Cold Light of Day is an action and espionage film that depicts what happens when an average man is thrown into extraordinary circumstances. The main character of the movie is Will Shaw, a Wall Street trader. Will's life is rather hectic but he enjoys it. When his family asks him to go on a trip with them in Spain, Will at first does not want to leave his work. However, he soon agrees and meets his father and the rest of his family in Madrid. After a boating accident, Will leaves his brother and his brother's girlfriend on their boat and heads into town for some medication. When he gets back, he finds the boat abandoned and most of his family missing. Will hurries to the police station but finds little help. Once back at the scene of the crime, it even seems that perhaps the police are in league with whoever has taken Will's family. Will realizes he must run away from the police in order to rescue his family. Luckily, Will's father, Martin, played by Bruce Willis, shows up and assists Will. Once they have reached a safe place where they can talk, Martin fills Will in on the situation. It turns out that Martin is actually secretly working for the CIA. Martin tells Will that he took a briefcase, and now the people who have taken Will's family are probably holding them ransom in return for the briefcase. The briefcase is now with Martin's partner. It is now a race against time to find the briefcase and use it to ransom Will's family. In addition, Will must find out why the briefcase is so important. He must also keep himself safe, as people are now after his life.