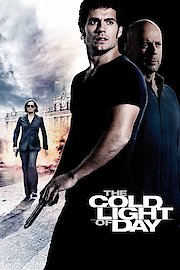 Watch The Cold Light of Day
"Instinct is his greatest weapon."
PG-13
2012
1 hr 33 min
22
The Cold Light of Day is a thrilling action movie from 2012 starring Henry Cavill, Bruce Willis, and Sigourney Weaver. The movie is directed by Mabrouk El Mechri and written by Scott Wiper and John Petro. The movie follows Will Shaw, played by Henry Cavill, a young Wall Street trader who is forced to become a hero when his family is kidnapped during a sailing trip in Spain.
The movie begins with Will arriving in Spain to spend some time with his family, who are already there on vacation. Will's father, Martin, played by Bruce Willis, is an ex-CIA agent who is hesitant to share his secrets with his son. Will's mother, Jean, is played by Caroline Goodall, and his brother, Josh, is played by Rafi Gavron. Will is not pleased with the trip, as he has a lot of work to do back in New York. However, he reluctantly joins his family for a sailing trip.
Things take a dramatic turn when Will goes ashore to buy some supplies, and when he returns to the boat, he finds that his family has disappeared without a trace. He soon discovers that his family has been kidnapped by a group of men who are after a briefcase that his father had in his possession. Will realizes that he must find his family and get the briefcase before it falls into the wrong hands.
Will's search for his family takes him on a dangerous, action-packed journey through the streets of Spain. Along the way, he meets Lucia, played by Veronica Echegui, a beautiful and mysterious woman who offers to help him. Lucia is also after the briefcase, and Will is not sure if he can trust her. He also crosses paths with Carrack, played by Sigourney Weaver, a cunning and ruthless CIA agent who has her own agenda.
The Cold Light of Day is an intense and suspenseful movie with non-stop action and thrilling chase scenes. Henry Cavill shines as the reluctant hero, portraying Will as a vulnerable and flawed character who must rely on his own resourcefulness and determination to survive. Bruce Willis is equally impressive as the tough and experienced Martin, who must confront his past in order to save his family. Sigourney Weaver delivers a commanding performance as the cold and calculating Carrack, who will stop at nothing to get what she wants.
The movie also features spectacular scenery and cinematography, showcasing the beauty of Spain as well as the pulse-pounding excitement of the chase scenes. The music score by Lucas Vidal adds to the tension and pace of the movie, keeping viewers on the edge of their seats from beginning to end.
Overall, The Cold Light of Day is a must-see action movie with an intriguing storyline, engaging characters, and thrilling action sequences. It is a perfect blend of suspense, drama, and adrenaline-pumping action that will satisfy viewers who love movies with intense and fast-paced storytelling.
The Cold Light of Day is a 2012 action movie with a runtime of 1 hour and 33 minutes. It has received poor reviews from critics and viewers, who have given it an IMDb score of 4.9 and a MetaScore of 22.