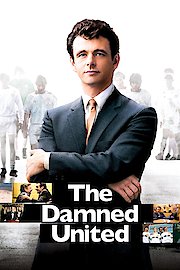 Watch The Damned United
"They love me for what I'm not... ...they hate me for what I am."
R
2009
1 hr 38 min
81
Based on the novel of the same name, The Damned United tells a fictional version of the real life events surrounding the 44 day reign of Brian Clough as the manager of Leeds United Football Club. The Damned United charts the antipathy that builds as rival managers Clough, played by Martin Sheen, of Derby County and Don Revie of Leeds United. The movie opens with Clough arriving at Leeds Elland Road stadium and accepting the job as manager in 1974, after Revie had departed to become manager of England. As Revie and the Leeds playing staff and supporters react angrily to the arrival of Clough, flashbacks explain how the two coaches have been rivals since an early meeting between the champions Leeds and lowly Derby County saw Revie ignore Clough, despite both men knowing they grew up in the same area of Middlesbrough. A series of meetings between the two mens teams occur from 1968 to 1974 that act as inspiration for Clough to improve his own coaching methods and his players skills. A final meeting before an important European match results in Derby's best players being injured and the hatred between the two camps reaching its zenith before Clough agrees to replace his main rival as Leeds manager for an ill fated spell.