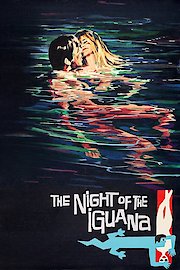 Watch The Night of the Iguana
"One man... three women... one night"
Approved
1964
2 hr 5 min
The Night of the Iguana is a dramatic film from 1964, directed by John Huston and starring Richard Burton, Ava Gardner, and Deborah Kerr. The movie is an adaptation of the play of the same name by Tennessee Williams. It is a character-driven film that deals with themes of morality, redemption, and human frailty. The story is set in a small coastal village in Mexico, where a defrocked Episcopal priest, Reverend T. Lawrence Shannon (Richard Burton) is working as a tour guide. Shannon is a man haunted by his past and struggling to come to terms with his present. He has been accused of seducing a seventeen-year-old girl and has been banished from his church. Shannon is seeking refuge at the Costa Verde Hotel, owned by the loud and brash Maxine Faulk (Ava Gardner).
At the hotel, we also meet Hannah Jelkes (Deborah Kerr) and her elderly grandfather Nonno (Cyril Delevanti), who are traveling artists. They are down on their luck and are looking for a place to stay. Hannah is a kind and compassionate woman who quickly recognizes Shannon's inner turmoil and offers him her friendship.
The plot unfolds over a period of twenty-four hours, during which time we see the relationships among the characters unravel. Shannon is constantly battling his inner demons and struggling to resist the advances of Maxine, who is the only one who seems to understand him. The arrival of Hannah and Nonno, whom Shannon initially finds irritating, brings a new perspective to his life. Hannah and Nonno are quiet observers of the world around them, and their presence has a calming effect on Shannon.
The film touches on themes of religion and morality, as Shannon grapples with his own demons and the expectations placed on him by his former profession. His interactions with the other characters reveal his vulnerabilities and flaws, making him a more relatable and human character. The character of Maxine represents a more worldly approach to life, where morality is not black and white but rather a shade of gray. She seems to be comfortable with her own moral ambiguity, which makes her a fascinating character to watch.
The film also explores the themes of love and redemption, as Hannah and Shannon form a bond that goes beyond their initial meeting. Hannah sees past Shannon's exterior and recognizes his inner turmoil, which makes her a pivotal character in his journey towards redemption. The tension between them is palpable, and the scenes they share are emotionally charged and well-acted.
Overall, The Night of the Iguana is a well-crafted film that showcases the talents of its cast and director. The cinematography is beautiful, and the setting of the film adds to its charm. The film was controversial at its time of release, due to its exploration of themes such as sexuality and religion. However, it remains a classic example of character-driven drama and is considered one of Tennessee Williams' best works.
In conclusion, The Night of the Iguana is a timeless classic that is still relevant today. It is a thought-provoking film that explores complex themes through well-crafted characters and a beautiful setting. The performances of Richard Burton, Ava Gardner, and Deborah Kerr are outstanding, and the film is a must-watch for anyone interested in classic cinema.
The Night of the Iguana is a 1964 drama with a runtime of 2 hours and 5 minutes. It has received mostly positive reviews from critics and viewers, who have given it an IMDb score of 7.6.