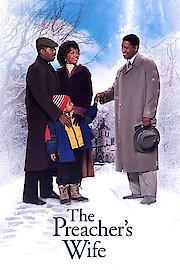 Watch The Preacher's Wife
"They needed help. What they got was a miracle."
PG
1996
2 hr 4 min
The Preacher's Wife is a delightful, romantic and fun film on family and faith. The story takes place in a New York City church that is declining. The pastor Rev. Henry Biggs (Courtney B. Vance) is plagued by all the work needed in the church, membership, and to top it all a developer Joe Hamilton (Gregory Hines) is trying to get him to sell the church to build a condominium. As usual Rev. Biggs prays for God to send him some help to fix the problems. The answer comes in the form of the debonair angel Dudley (Denzel Washington) who looks just like regular folk. Rev. Biggs dispels the idea when Dudley tells him he is an angel. His secretary Beverly (Loretta Devine) thinks he is there to replace her and becomes suspicious of everything he does. Julia (Whitney Houston) Rev. Biggs' wife and son Jeremiah are delighted with the attention given to them by Dudley. Rev. Biggs has been so overcome by all his worries that he has begun to unconsciously neglect his family. Not only if the secretary suspicious, but Julia's mother (Jennifer Lewis) begins to watch the comings and goings of Dudley, and all the attention he is giving to her daughter. After ice-skating one evening they attend a nightclub where Julia used to sing. All throughout the movie you will hear the melodic Gospel sounds from Ms. Houston. At this point Dudley realizes he is falling in love with Julia, so he retreats and gets back to the job he was sent to do. He foils the plans of Joe Hamilton to get Rev. Biggs to sell the church property. Rev. Biggs reconnects with his family during the church Christmas pageant. Dudley erases his memory from everyone's mind except for Jeremiah who with a child-like simplicity still sees him at the pageant. Dudley leaves them a Christmas tree with an angel at the top. Jeremiah wishes Dudley a Merry Christmas as he leaves, and life is back to normal.