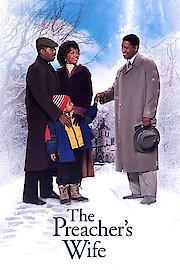 Watch The Preacher's Wife
"They needed help. What they got was a miracle."
PG
1996
2 hr 4 min
The Preacher's Wife is a heartwarming Christmas movie from 1996 directed by Penny Marshall. The movie stars Denzel Washington as an angel named Dudley, who comes to earth to help a struggling pastor and his church. Whitney Houston plays the role of the pastor's wife, Julia Biggs, who is frustrated with the recent developments in her life, including her husband's neglect of her and their son Jeremiah, as he struggles to keep his church alive. Courtney B. Vance plays the role of the pastor, Reverend Henry Biggs, who is overwhelmed by the mounting pressures of running his church and being a good husband and father. The movie begins with Reverend Biggs delivering his Sunday sermon to a dwindling congregation while Julia struggles to keep the church's finances afloat. Meanwhile, in heaven, Dudley is tasked with helping Reverend Biggs and his community regain faith in the church. Dudley is not your typical angel, he's charming, funny, and handsome, which makes Julia suspicious of him from the beginning. But as Dudley takes on more tasks to help the congregation and the family, Julia slowly starts to find comfort and peace from his presence. As Dudley spends more time on earth, he becomes increasingly close to the Biggs family, especially Jeremiah, who sees Dudley as a confidant and friend. The bond between Dudley and the family becomes a central focus of the movie, and the audience is treated to various heartwarming and comedic moments. Dudley also helps Reverend Biggs with his marital problems, which come to a head when he discovers that one of his closest friends has been embezzling money from the church. As Christmas approaches, the stakes become higher for the Biggs family, and Dudley must use all of his heavenly powers to help them regain their faith in the church and each other. The climax of the movie culminates in a church Christmas pageant, where Dudley gives a moving sermon and helps the family reconnect with their faith. Overall, The Preacher's Wife is a touching and heartfelt movie, with excellent performances from Denzel Washington, Whitney Houston, and Courtney B. Vance. The movie's message of hope, faith, and the power of love is timeless and will resonate with audiences for years to come. The movie's combination of spirituality, humor, and a heartwarming story make it a must-see for anyone looking to get into the holiday spirit.