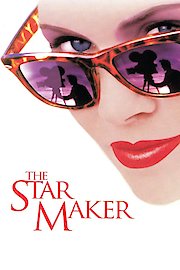 Watch The Star Maker
"In the golden age of cinema, everyone dreams of becoming a star. One man promises to make all their dreams come true..."
R
1995
1 hr 53 min
The Star Maker is an Italian drama and romance film that is in part based on true events that had occurred in Italy. The film takes place in the Italian island of Sicily. The film is about Joe Morelli, a man who claims to be an agent for the movie studios in Rome. He travels around the island of Sicily where he tricks people into giving him money and performing favors for him in exchange for a chance to be a movie star in Rome. Joe eventually encounters Beata, a poor peasant girl from a convent that is lured by Joe's promises of stardom. She falls in love with him and Joe starts to fall in love with her. However, Joe gets arrested for his fraud and is thrown in jail. The Star Maker debuted in theaters in 1995 across the world.