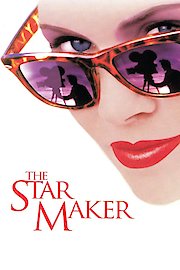 Watch The Star Maker
"In the golden age of cinema, everyone dreams of becoming a star. One man promises to make all their dreams come true..."
R
1995
1 hr 53 min
The Star Maker is a 1995 Italian drama film directed by Giuseppe Tornatore. The film is set in Sicily in the 1950s and tells the story of Joe Morelli, a struggling movie producer from Rome, who travels to a small village in Sicily in search of new talent for his next film project. He is looking for women who can sing or play an instrument, but he ends up finding much more than that. Joe's goal is to discover a new star, someone who will become the next big thing in the Italian film industry. He goes around town auditioning various young women, but none of them seem to be good enough for his project. It's only when he meets Beata, a beautiful but shy young woman who lives with her parents in a small house in the countryside, that he realizes he has found the one he's been looking for. Despite her initial reluctance, Beata eventually agrees to work with Joe and pursue a career in acting. Joe sees in her the talent and charisma he's been searching for and he sets out to transform her into a movie star. The two of them travel to Rome where Beata begins to undergo a transformation, both physically and mentally. She is trained in acting, dancing, singing, and even how to walk properly. She is also given a new name: Maria. As the project progresses, Beata begins to develop feelings for Joe, who is twice her age and already married. Joe, on the other hand, sees her only as a means to an end, as his ticket back into the world of the rich and famous. The relationship between the two becomes increasingly complicated as Maria starts to become more successful and Joe becomes more obsessed with her. The film explores themes of ambition, love, and sacrifice, and it shows the price that one must pay for success in the entertainment industry. It also offers a glimpse into the world of Italian cinema in the 1950s, with its glamorous stars, ruthless producers, and cutthroat competition. The Star Maker is a visually stunning film, with beautiful cinematography that captures the essence of the Italian countryside and the vibrant city life of Rome. The soundtrack, composed by Ennio Morricone, is also a highlight of the film, blending traditional Sicilian music with classic Hollywood-style orchestration. The performances in the film are also exceptional, particularly that of Sergio Castellitto, who plays Joe with a mixture of charm, ego, and vulnerability. Tiziana Lodato is also brilliant as Beata/Maria, capturing the character's transformation from a shy girl to a confident and glamorous movie star. Overall, The Star Maker is a fascinating and thought-provoking film that offers a glimpse into the world of Italian cinema in the 1950s, as well as a compelling story about ambition, love, and sacrifice.