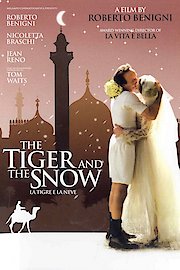 The Tiger and the Snow
"A love-struck Italian poet is stuck in Iraq at the onset of an American invasion."
2005
1 hr 58 min
22
The Tiger and the Snow is a movie based around the commencement of the American invasion about an Italian poet. Trapped in Iran, he suddenly becomes struck by what he calls true love. Finding love gives him relief and despair at the same time, because his love is placed in a hospital due a terrible injury.