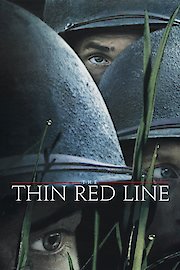 Watch The Thin Red Line
"Every man fights his own war."
R
1998
2 hr 50 min
78
The Thin Red Line is a 1998 American war-drama film that is based on the novel of the same name written by James Jones in 1962. Directed by Terrence Malick, the film tells the story of the American soldiers who fought in the Guadalcanal campaign during World War II. The plot of the movie revolves around several characters and their reactions to the traumatic events of war. The film begins with the arrival of a group of soldiers from the United States to the island of Guadalcanal, where they are to take part in a mission to capture a Japanese-controlled airstrip. As they prepare for their mission, the soldiers are introduced to various members of their unit, including Private Witt (Jim Caviezel), a deserter who has returned to the army after living for some time with a group of natives on the island. Also present are Sergeant Welsh (Sean Penn), a cynical and hardened veteran of the war, and Lieutenant Colonel Tall (Nick Nolte), a harsh and ambitious officer. The soldiers are immediately thrown into the brutal and violent realities of war, as they engage in a series of intense battles against the Japanese forces on the island. As the fighting and casualties mount, the soldiers are forced to confront their own mortality, as well as their beliefs and values. One of the key themes of the movie is the contrast between nature and war. Throughout the film, Terrence Malick interweaves stunning visuals of the natural world surrounding the battlefield with scenes of the destruction caused by war. This juxtaposition serves to highlight the devastating impact of war on both the human and natural worlds. Another important theme is the concept of honor and duty. The soldiers are depicted as individuals who are willing to risk their lives for their country and their fellow soldiers, despite the horrors of war. In many ways, the film is a meditation on the virtues and sacrifices of those who fight in wars. The performances in the film are universally excellent, with Jim Caviezel, Sean Penn, and Nick Nolte all giving powerful and nuanced performances. The supporting cast, which includes actors like Adrien Brody, John Cusack, and George Clooney, is also uniformly strong. The Thin Red Line received critical acclaim upon its release and was nominated for seven Academy Awards, including Best Picture, Best Director, and Best Adapted Screenplay. Despite its critical success, the film did not fare well at the box office, possibly due to its challenging and unconventional approach to its subject matter. Overall, The Thin Red Line is a powerful and thought-provoking war drama that explores the complex psychological and emotional experiences of soldiers on the front lines of battle. With its stunning visuals, powerful performances, and unique storytelling approach, the film is a standout work in the genre of war cinema.