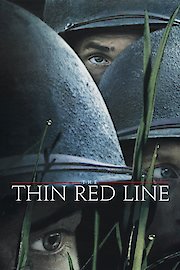 Watch The Thin Red Line
"Every man fights his own war."
R
1998
2 hr 50 min
78
The Thin Red Line is an American war film that tells a fictionalized account of the Battle of Mount Austen, a part of the Guadalcanal Campaign in the Pacific Theater during World War II. The story centers around the soldiers of C Company, 1st Battalion 27th Infantry Regiment, 25th Infantry Division. The unit has been sent to Guadalcanal as reinforcements in American's struggle to seize the island from the Japanese. The story follows the soldiers as they fight in the war, also allowing us glimpses of their lives back home and a chance to get know the characters as the war rages on. The men fight bravely in the face of death and fear, even when they are backed into corners and have nowhere to go. A small group of the men from the unit move out in search of the Japanese bunker, while the remaining men stay hunkered down.