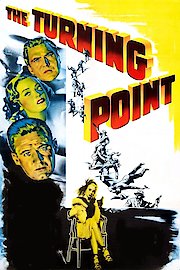 Watch The Turning Point
"Today's most sensational story of racket-busting !"
Passed
1952
1 hr 25 min
Inspired by true events, this crime drama sees a crusading Los Angeles official and a newspaper man set out on a quest to destroy a crime syndicate that appears to have city hall and the police under its control. LA District Attorney John Conroy sets out to break the syndicate with the help of reporter Jerry McKibbon, who has doubts about just how tough the DA really is. In order to scare Conroy out of chasing the crime gang a contract is put out on the life of McKibbon.