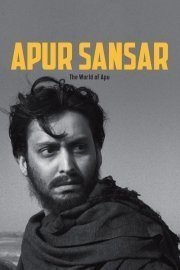 Watch The World of Apur [Apur Sansar]
NR
1959
1 hr 45 min
The World of Apur, also known as Apur Sansar, is a Bengali drama film from 1959 directed by the legendary Indian filmmaker Satyajit Ray. The film is the final installment in Ray's critically acclaimed Apu Trilogy, which chronicles the life of Apu, a poor Bengali boy from rural India, as he grows into adulthood and navigates the various challenges of life.
The film follows Apu (played by Soumitra Chatterjee) as a young man in Kolkata, where he is struggling to make a living as a writer. After the sudden death of his wife, Apu is left to care for their young son, Kajal, on his own. Despite the challenges of poverty and single parenthood, Apu is determined to provide for his son and give him the best possible life.
Along the way, Apu reconnects with an old friend, Pulu (played by Swapan Mukherjee), who helps him find work as a proofreader for a local publisher. Through his work, Apu meets a young woman named Aparna (played by Sharmila Tagore), and the two quickly fall in love. Despite some initial challenges and obstacles, Apu and Aparna get married and begin building a life together as a family with Kajal.
The World of Apur is a powerful and moving film that explores the themes of love, loss, and the human condition. At its heart, the film is a tribute to the resilience of the human spirit in the face of adversity, and to the power of human connection to heal wounds and bring people together.
One of the film's most striking features is its rich and evocative cinematography, which captures the vibrant energy and diversity of Kolkata in the late 1950s. Ray's use of light and shadow, as well as his skillful framing and composition, create a timeless and unforgettable portrait of a city in flux.
The film's performances are also noteworthy, particularly those of Chatterjee and Tagore, who bring a remarkable depth and nuance to their roles. Chatterjee's portrayal of Apu is both sympathetic and complex, conveying the character's many contradictions and vulnerabilities with sensitivity and grace. Tagore, meanwhile, gives a luminous and unforgettable performance as Aparna, a young woman whose beauty and spirit captivate Apu and the audience alike.
Overall, The World of Apur is a masterpiece of world cinema, a film that transcends cultural and temporal boundaries to speak to the universal human experience. Its timeless themes, stunning visual style, and memorable performances make it a film that is not to be missed by any lover of serious cinema.
The World of Apur [Apur Sansar] is a 1959 drama with a runtime of 1 hour and 45 minutes. It has received mostly positive reviews from critics and viewers, who have given it an IMDb score of 8.5.