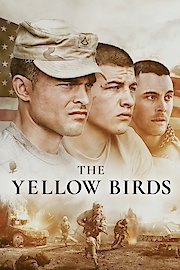 Watch The Yellow Birds
"There Are Moments That Test Us And Choices That Define Us"
R
2018
1 hr 35 min
56
The Yellow Birds, a 2017 war drama, brings to life the heart-wrenching tale of two young soldiers, Bartle and Murph, who are deployed to fight in the Iraq war. The film, directed by Alexandre Moors and based on Kevin Powers' novel of the same name, features a star-studded cast including Alden Ehrenreich, Daniel Jose Molina, and Mikey Collins. The story follows the lives of Bartle (played by Ehrenreich) and Murph (Collins), two close friends who leave their hometown in Virginia to serve in the army in the backdrop of the war. The two quickly become inseparable, sharing everything from their deepest fears to their hopes for the future. However, as they progress through their deployment, their bond is tested by the brutal realities of war. One fateful day, the two young men are separated during a mission, and Murph is reported missing in action. The experience drives Bartle into a downward spiral of guilt and despair, as he struggles to come to terms with his own survival while leaving his friend behind. The film digs deep into Bartle's psyche, exploring his trauma and inner turmoil with great sensitivity. The Yellow Birds is a raw and honest portrayal of the mental and emotional wounds inflicted by war on soldiers. Ehrenreich delivers a compelling and poignant performance, capturing the agony and confusion of guilt and loss flawlessly. Molina, who plays Murph's mother, adds a layer of depth to the film as she searches for answers about her son's disappearance. The film's cinematography beautifully captures the Iraqi landscape, conveying the desolation of war-torn areas and the stark contrast between the beauty of the natural world and the violence of wartime. The setting serves as a haunting reminder of the physical and psychological toll of war. With a heartfelt script and powerful performances, The Yellow Birds is a must-watch for anyone interested in war dramas that deal with the human cost of war. It reminds us that the battles fought abroad have long-lasting effects on the individuals who lived and died through them. In conclusion, The Yellow Birds is a powerful and deeply moving film that captures the emotional journey of soldiers battling in a foreign land. It's a story of personal sacrifice, grief, and survival that sheds light on the devastating impact of war on the human psyche. The film boasts a talented cast, breathtaking visuals, and a poignant message that will stay with you long after the credits roll.