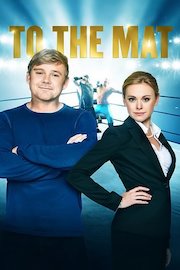 Watch To the Mat
"All's Fair in Love and Wrestling."
2011
1 hr 31 min
To the Mat is a heartwarming sports drama that tells the story of a struggling professional wrestler, Aaron, who leaves a successful career in the ring to become a high school wrestling coach. The movie stars Ricky Schroder as Aaron, Laura Bell Bundy as his wife, and Cameron Bancroft as his former wrestling coach. The movie begins with Aaron at the height of his wrestling career, but struggling with personal issues off the mat. After a particularly tough fight, he decides to retire from wrestling and take a break to focus on himself and his family. However, when his former wrestling coach approaches him with a job offer to coach the struggling wrestling team at a local high school, Aaron sees it as an opportunity to give back to the sport that gave so much to him.
At the high school, Aaron quickly realizes that he has his work cut out for him. The wrestling program is in shambles, with the team having lost nearly every match in recent history. The athletes are unmotivated and lack the discipline required to succeed in the sport. But Aaron is determined to turn things around with his unique coaching style.
Aaron brings his experience from the professional wrestling world to the high school team, teaching his students the technical skills and mental toughness required to succeed in the sport. He pushes his wrestlers to their limits, teaches them about the importance of hard work and dedication, and instills in them a sense of pride and discipline.
As the team begins to improve, Aaron must also deal with personal issues, including tension in his marriage and the return of a past rival. But he remains focused on the task at hand, determined to lead his wrestlers to success, both on and off the mat.
Throughout the movie, viewers are treated to powerful wrestling scenes, as the athletes battle it out on the mat against their rivals. The intense physicality of the sport is on full display, as the athletes push themselves to their limits in order to come out on top.
But To the Mat is more than just a sports movie. At its core, it is a story about overcoming adversity and finding redemption. Aaron must confront his own personal demons and learn to believe in himself again, while the wrestlers must overcome their doubts and fears in order to find success in the sport they love.
Overall, To the Mat is an inspiring and uplifting movie that will appeal to fans of sports dramas and anyone who appreciates a good underdog story. With powerful performances from its cast and a powerful message about the importance of discipline and perseverance, it is a movie that is sure to leave a lasting impression on viewers.