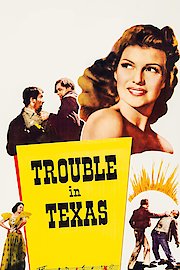 Watch Trouble in Texas
"TEX BLASTS RODEO RACKETEERS...AND WINS A BEAUTIFUL SENORITA!"
Passed
1937
1 hr 3 min
Tex Ritter stars as Jim Hale, a lawman who must clean up a small town that has fallen into the grip of a corrupt cattleman. Trouble in Texas, a 1937 western film directed by Robert N. Bradbury, is a classic example of the genre, complete with shootouts, horse chases, and duels. The movie features the debut of an actress who would later become a Hollywood legend, Rita Hayworth, who at the time went by the name of Rita Cansino. The plot of Trouble in Texas revolves around a dispute between two factions in Yellow City, a town in the Texas Panhandle. On one side are the law-abiding citizens, led by Jim Hale, who works for the Wells Fargo Company. On the other side is Pickett, a wealthy cattleman who has an iron grip on the town, thanks to his gang of loyal henchmen. The conflict comes to a head when a stagecoach carrying a large sum of money is robbed, and Jim Hale is tasked with recovering the stolen funds. As Jim investigates the robbery, he discovers that Pickett and his men are behind it, and that they have no intention of surrendering the money. Jim also learns that Pickett has a personal grudge against him, dating back to a previous encounter in which Jim arrested one of his men. To make matters worse, Pickett is also interested in Alice, Jim's love interest, and uses her as a pawn in his desperate attempts to get rid of Jim. To fight back against Pickett, Jim enlists the help of White Flash, a magnificent white stallion who becomes the hero's loyal companion throughout the film. Together, Jim and White Flash engage in a series of daring escapades, including a thrilling chase scene in which the horse jumps over a cliff to escape his pursuers. With the help of Alice and a few other loyal friends, Jim eventually triumphs over Pickett and his gang, restoring law and order to Yellow City. One of the most interesting aspects of Trouble in Texas is the appearance of Rita Hayworth, who was just 18 years old at the time. Although Hayworth's role is relatively minor, she exudes a natural charisma and a striking beauty that would later make her one of Hollywood's most glamorous stars. In the film, she plays Juanita Martinez, a young woman who works in a cantina frequented by Pickett and his men. Although she harbors no love for the criminals, she is powerless to resist their advances until Jim shows up and sweeps her off her feet. Tex Ritter, too, is a charismatic presence on screen, playing Jim Hale with a rugged charm and heroic determination. His scenes with White Flash are a highlight of the film, showcasing the incredible bond between man and animal that is central to so many westerns. The film's action sequences are also impressive, with director Robert Bradbury displaying a flair for kinetic and suspenseful storytelling. In conclusion, Trouble in Texas is a classic western film that delivers all the thrills and excitement that fans of the genre have come to expect. With its memorable performances, gripping plot, and thrilling action sequences, it is a must-see for anyone who loves the wild and rugged world of the American frontier. Whether you're a fan of Tex Ritter, Rita Hayworth, or just good old-fashioned western adventure, Trouble in Texas is a film that you won't want to miss.