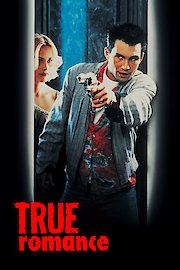 Watch True Romance
"Stealing, cheating, killing. Who said romance was dead?"
R
1993
2 hr 1 min
59
True Romance is a 1993 American romantic crime film directed by Tony Scott and written by Quentin Tarantino. The movie features an outstanding ensemble cast, including Christian Slater, Patricia Arquette, Dennis Hopper, Gary Oldman, Brad Pitt, Christopher Walken, and James Gandolfini, among others. The story revolves around the love story between Clarence (Christian Slater), a comic book store clerk and Elvis Presley aficionado, and Alabama (Patricia Arquette), a beautiful call girl hired by Clarence's boss as a birthday present. Their instant attraction quickly leads to a whirlwind romance, and they decide to get married right away. However, things take a drastic turn when Alabama's pimp, Drexel (Gary Oldman), finds out about their relationship and sends his henchmen to kill Clarence.
What follows is a wild and violent ride as Clarence, aided by Alabama, tries to outrun the cops and gangsters, while also trying to sell a suitcase full of cocaine, which they stole from Alabama's pimp. As they travel from Detroit to Los Angeles, they encounter a colorful cast of characters, including Clarence's estranged father (Dennis Hopper), a volatile gangster (Christopher Walken) and his sadistic enforcer (James Gandolfini), and a stoned surfer dude (Brad Pitt).
The movie is a tribute to the classic crime movies of the 1970s, and it features many of the distinct elements of this genre, including stylized violence, black comedy, and a sense of romantic fatalism. The plot is driven by the characters' desires and flaws, and the relationships between them are both tender and explosive. Christian Slater gives perhaps the best performance of his career as Clarence, a dreamer who finds a sense of purpose in his love for Alabama, while Patricia Arquette shines as the tough but vulnerable hooker who is forced to confront her past and her own feelings.
The supporting cast is equally impressive, with Gary Oldman delivering a scene-stealing performance as the flamboyant, dreadlocked pimp Drexel, and Dennis Hopper bringing gravitas and emotion to the role of Clarence's ex-cop father. Christopher Walken and James Gandolfini, two of the most iconic tough guys in cinema history, bring their trademark intensity and menace to their respective roles, and Brad Pitt is hilarious as the perpetually stoned surfer dude who accidentally gets involved in their scheme.
The movie's direction is stylish and kinetic, with Tony Scott infusing the film with visual flair and energy. The cinematography by Jeffrey L. Kimball is dazzling, and the soundtrack, which includes songs by Elvis Presley, Soundgarden, and Hans Zimmer, adds to the film's cool and hip vibe.
Overall, True Romance is a cult classic that has endured as one of the most beloved crime movies of all time. It's a stylish and visceral film that balances humor and romance with violence and danger in a way that only Quentin Tarantino could manage. With its iconic performances, memorable dialogue, and thrilling action, True Romance is a must-see for fans of the genre and lovers of great cinema alike.
True Romance is a 1993 action movie with a runtime of 2 hours and 1 minute. It has received moderate reviews from critics and viewers, who have given it an IMDb score of 7.9 and a MetaScore of 59.