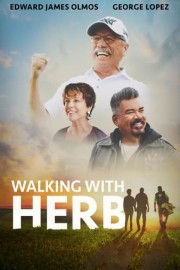 Watch Walking With Herb
PG
2021
1 hr 47 min
Walking With Herb is a 2021 movie directed by Ross Marks and starring Edward James Olmos, George Lopez, and Kathleen Quinlan. It is a heartwarming comedy-drama that follows Joe Amable-Amo, a retired businessman who is struggling to find his purpose in life. After losing his faith, Joe is given a divine message that he must go on a journey to find his calling, which leads him to participate in a golf tournament.
Joe is a man who is going through a mid-life crisis as he struggles with his identity and purpose. He has retired from his successful business career, but he feels directionless and lost. He is married to his college sweetheart, Sheila, played by Kathleen Quinlan, who is supportive but also struggling with her own identity crisis. They have a son, David, played by Billy Boyd, who is a successful attorney but distant from his father.
Joe's life takes an unexpected turn when he hears the voice of God, played by The Terminator's Arnold Schwarzenegger, speaking to him during his morning jog. God tells him that he needs to play in a golf tournament and that he will be partnered with Herb, an angel who will guide him through the tournament. Joe thinks he is losing his mind, but he decides to follow the voice and attend the tournament.
The tournament is a life-changing experience for Joe. He meets Herb, played by George Lopez, and they team up for the tournament. Herb is a fun-loving, optimistic angel who encourages Joe to believe in himself and to find his purpose. Throughout the tournament, Herb teaches Joe valuable lessons about life, faith, and golf.
Walking With Herb is more than just a feel-good movie about a man finding his purpose. It is a movie that addresses issues such as faith, doubt, and the power of belief. Throughout the movie, Joe struggles with his faith, and God appears to him in different forms to help him regain his faith. The movie also raises questions about our purpose in life and how we can find it.
The relationship between Joe and Herb is one of the main highlights of the movie. George Lopez shines as the lovable, eccentric angel who guides Joe through his journey. The chemistry between Lopez and Olmos is excellent, and they both deliver exceptional performances. Kathleen Quinlan is also excellent in her role as Joe's supportive wife, Sheila.
The movie features beautiful cinematography that captures the beauty of New Mexico's landscape, where the golf tournament takes place. The golf scenes are also well shot, and they showcase the game's beauty and finesse.
Walking With Herb is a movie that will leave you feeling inspired, uplifted, and entertained. It is a movie about hope, faith, and the power of belief. It reminds us that life is full of surprises, and our purpose can manifest in different ways. The movie is not just for golf lovers, but for anyone who has ever questioned their purpose in life. It is a movie that tells us that it's never too late to find our purpose, and we should never stop believing in ourselves.
Walking With Herb is a 2021 comedy with a runtime of 1 hour and 47 minutes. It has received moderate reviews from critics and viewers, who have given it an IMDb score of 5.2.