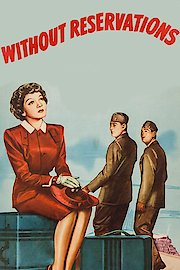 Watch Without Reservations
"Transcontinental Romance - Unlimited!!!"
Approved
1946
1 hr 47 min
Without Reservations is a classic romantic comedy film that was released in 1946, directed by Mervyn LeRoy and starring the beautiful and talented actress Claudette Colbert, one of the biggest stars of the time, along with John Wayne and Don DeFore. The movie starts with the story of Christopher 'Kit' Madden (Claudette Colbert), a successful and independent author who has written a bestselling novel called "Here Is Tomorrow". Her book has become so popular that it is going to be turned into a movie by RKO Pictures, and she has been invited to go to Hollywood for the filming. Kit is excited to go to LA, but there's a problem: she has to give up her reservation on the train in order to make the journey. She is unhappy about this, but fate has other plans for her. When she gets to the train station, she meets a charming and handsome marine Lieutenant, Rusty (John Wayne), who is also headed to LA. Kit is not interested in Rusty's company at first, but she changes her mind when she finds out that he has managed to get a roomette on the train, which she can share with him. Rusty is immediately smitten with Kit, but she's not interested in him, and treats him coldly. They travel together on the train, along with Rusty's friend, Dink (Don DeFore), who is also a marine Lieutenant. As they make their way across the country, Kit and Rusty clash several times due to their differences in personality and worldview. Kit is a sophisticated and independent woman who is used to doing things her way, while Rusty is a simple and patriotic man who believes in traditional values and his country. Despite their differences, they begin to fall for each other, with Rusty helping Kit to understand the importance of family, patriotism, and simple living. However, when they arrive in LA, Rusty gets called away on a mission and has to leave Kit behind. She is sad and confused, but eventually continues to work on her book, with the help of a Hollywood writer named Tommy (Philip Reed). As she works on her book, she begins to realize that she misses Rusty and falls in love with him. She decides to go to his base and tell him how she feels, but when she gets there, she finds out that he has just become engaged to a woman he met in LA. Heartbroken, Kit decides to return home, but Rusty follows her, confessing his love and revealing that he only got engaged because he thought Kit didn't love him back. In the end, they both realize that they are meant to be together, and they live happily ever after. Without Reservations is a charming and entertaining movie that is full of humor, romance, and drama. The chemistry between Claudette Colbert and John Wayne is palpable, and their performance is spot on. Don DeFore is also great as Dink, providing a lot of comic relief. The film is beautifully shot, with stunning visuals of the American landscape and the train ride across the country. It also features great music, with several famous tunes such as "One-zy, Two-zy" and "That Old Black Magic". Overall, Without Reservations is a classic Hollywood movie that is sure to delight fans of romantic comedies, John Wayne, or Claudette Colbert. The film has stood the test of time and is still an enjoyable watch over 70 years after its initial release.