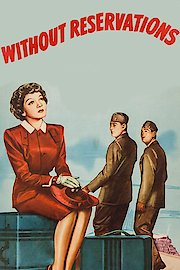 Watch Without Reservations
"Transcontinental Romance - Unlimited!!!"
Approved
1946
1 hr 47 min
Famous author "Kit" Masterson (Claudette Colbert) needs an actor to portray the lead character, a soldier, in the upcoming movie version of her book. While on a train to California, she meets Marine Rusty Thomas (John Wayne) and his friend, Dink (Don DeFore). She begins to imagine the macho Rusty as the lead, and attempts to stay in his company. However, since Rusty did not like her book, Kit must conceal her identity, all the while growing more attracted to her potential actor.