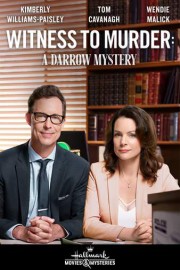 Watch Witness to Murder: A Darrow Mystery
NR
2019
1 hr 24 min
Witness to Murder: A Darrow Mystery is a thrilling legal drama film released in 2019. The movie features an impressive cast including Kimberly Williams-Paisley, Wendie Malick, Tom Cavanagh, and Elysia Rotaru. It is directed by Mel Damski and written by Phoef Sutton. The storyline centers on Joanna Darrow (Kimberly Williams-Paisley), a successful defense attorney who specializes in criminal cases. She is known for her sharp wit, exceptional performance in the courtroom, and her unrelenting pursuit of justice. However, Joanna's reputation is challenged when she comes across a case that turns her world upside down.
One day, while jogging in the park, she witnesses a brutal murder. The victim, a young woman, is shot right in front of her eyes. Joanna immediately rushes to the scene and tries to help the woman, but unfortunately, it's too late. Before dying, the victim whispers into Joanna's ear, "I did it." As a result, Joanna finds herself caught up in a web of lies, deceit, and secrets.
With the police investigating the murder, Joanna becomes a key witness in the case. Detective Eddie Bent (Tom Cavanagh) is assigned to the case and quickly realizes that Joanna's testimony is significant for the prosecution. However, as Joanna delves deeper into the case, she starts to realize that things may not be as they seem.
Joanna's investigation takes her to the victim's workplace, where she meets her boss, Olivia Randall (Wendie Malick), a prominent businesswoman who seems to have something to hide. Joanna discovers that the victim was blackmailing Olivia, and the two had a complicated relationship. With this discovery, Joanna starts to uncover the truth behind the murder and realizes that her client may not be guilty.
As she prepares for the trial, Joanna faces several roadblocks, including threats from the killer and a lack of evidence. However, through her persistence and determination, she finally uncovers the crucial piece of evidence that cracks the case wide open.
The acting in Witness to Murder: A Darrow Mystery is impressive, with Kimberly Williams-Paisley delivering an enthralling performance as Joanna Darrow. Her character is compelling, intelligent, and likable, making her the perfect lead for the film. Tom Cavanagh's portrayal of the Detective Eddie Bent is noteworthy, and Wendie Malick plays her role as Olivia Randall perfectly.
The movie is well-paced, with enough twists and turns to keep the audience engaged. There are moments where the film slows down, but not to the point of being tedious. The ending is satisfying, making it a great legal drama for anyone who enjoys the genre.
In conclusion, Witness to Murder: A Darrow Mystery is a thrilling movie that offers an intriguing storyline, captivating performances, and impressive direction. It is a great watch for anyone who loves legal dramas, mystery films, or crime thrillers. It showcases the skills of the director and cast, and it's definitely worth a watch.
Witness to Murder: A Darrow Mystery is a 2019 crime movie with a runtime of 1 hour and 24 minutes. It has received mostly positive reviews from critics and viewers, who have given it an IMDb score of 7.3.