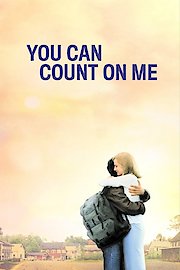 Watch You Can Count on Me
"Family first. Love always."
R
2000
1 hr 51 min
85
You Can Count on Me is a 2000 independent drama film that explores the complexities of family relationships, particularly between siblings. The movie is written and directed by Kenneth Lonergan and stars Laura Linney, Matthew Broderick, and Amy Ryan. The story follows the life of Sammy Prescott (Laura Linney), a single mother in her thirties who resides in a small town in upstate New York. Sammy's life is mostly centered around her job as a bank loan officer and raising her eight-year-old son Rudy (Rory Culkin) alone, as his father abandoned them early on. Sammy's once close relationship with her older brother Terry (Mark Ruffalo) has since been strained ever since Terry left town years before, and they haven't ex
actly been in touch since.
When Terry suddenly returns to town, he's in need of help and seeks out Sammy's assistance. She's initially hesitant but soon agrees to let him stay with her and spend time with Rudy while Sammy works. With Terry's arrival comes unexpected disruptions to her routine life. Sammy's boss is pressuring her to fire an employee. Her ex-boyfriend (Jon Tenney) is also back in town, urging her to leave with him to start a new life. Terry brings his own emotional baggage, including struggles with alcoholism and gambling addiction, which only make things more complicated.
Throughout the course of the film, the story alternates between the different characters, each struggling to come to terms with what they believe is right for their life. Sammy tries to balance her work, her son's needs, and her relationship with her ex-boyfriend, while Terry hopes to rebuild his bond with Sammy and win back some of what he's lost. The relationship between Sammy and Terry is the central focus of the movie, and it is both touching and frustrating to see their relationship play out.
The performances of the entire cast are superb, but it is Linney's portrayal of Sammy that stands out the most. She conveys the weariness that comes with being a single mother, the pain of her past, and her reluctance to trust her brother's sudden appearance. Broderick delivers an excellent performance as Brian, Sammy's judgmental boss, who has his own struggles with his estranged son. Ryan plays a small but essential role as Terry's flirtatious friend, who makes him confront his past.
You Can Count on Me is a well-crafted, character-driven film that showcases the realities of life and the complexity of family relationships. The film takes a realistic approach to portray its characters and steers away from the typical cliches attached to the genre. The movie's pace may be slow for some viewers, but it still manages to engage and connect emotionally. The themes of loss, alienation, and the struggles of dealing with one's past make it a thought-provoking film.
To summarize, You Can Count On Me is an ode to small-town life, family ties, and the universal search for connection, love, and meaning. It is a poignant, bittersweet, and relatable story about the ties that bind us or break us, and how sometimes the people we love are the ones who hurt and heal us the most.
You Can Count on Me is a 2000 drama with a runtime of 1 hour and 51 minutes. It has received mostly positive reviews from critics and viewers, who have given it an IMDb score of 7.5 and a MetaScore of 85.