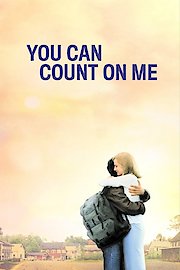 Watch You Can Count on Me
"Family first. Love always."
R
2000
1 hr 51 min
85
Writer and director Kenneth Lonergan's film debut is a quiet, touching story about the way relationships between adult siblings evolve (or don't evolve). Sammy (Laura Linney) is holding her life together, with a respectable job, her eight year old son and the home she grew up in. When her younger brother Terry (Mark Ruffalo) blows back into their small upstate New York town, the two siblings are initially overjoyed to see one another. Having lost their parents in a car crash when they were still kids, they have a deep, poignant bond. Sammy's hope is that directionless Terry will form a bond with Rudy, her precocious son (played with fierce humor and depth by Rory Culkin). Her plans are made on shaky ground, however, as Rory and Terry seem to be more partners in crime than uncle and nephew. Further, Sammy finds herself in a precarious position with her boss at the bank (played in a very funny, raw turn by Matthew Broderick, a close friend of Lonergan). The little family feels the pressure of a small-town life where everyone knows you and your secrets. The story develops at a slow pace, with moments of bittersweet humor.