12 Years Promise
In the drama series 12 Years Promise, a pregnant teen is forced by her family to leave her boyfriend and assume a new identity in America, but 12 years later, the couple reunites in Korea. Their new relationship may be as difficult as the old one. So-yeon Lee, Min Namkoong, and Chong-ok Bae star.
1 Season,

26

Episodes

January 1, 2014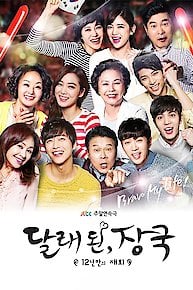 12 Years Promise Full Episode Guide
Jun-su uncovers Dal-lae's secret, and the two are entangled in a web of emotions. With their mothers at odds, does their relationship have a chance of surviving?

Jun-su vanishes after confessing his past to Dal-lae, who sets out looking for him. Their two mothers have a fateful encounter, while Cheol-su contacts Yeong-hui.

Jun-su becomes hysterical after witnessing Dal-lae and Jang-u together. Se-min can only pine for Go-sun from a distance, while Cheol-su returns home unexpectedly.

Dal-lae and Jun-su are shocked to discover the identity of a famous designer, and Jun-su is wary of his interest in Dal-lae. Beom-suk discovers Cheol-su in hiding.

A war is on the brink of breaking out between Dal-lae and Da-hae with Jun-su feeling powerless in the middle. However, Da-hae suddenly disappears without a word.

Jun-su starts to slowly win over Dal-lae's heart. Tensions mount when Dal-lae and Da-hae meet, while a family feud at the Jang household is in full swing.

Jun-su can't shake the feeling of familiarity whenever he sees Dal-lae. Meanwhile, Cheol-su returns to his old neighborhood as Yeong-hui prepares for divorce.

The past is still alive and well. Dal-lae and Jun-su somehow keep bumping into each other, while Go-sun becomes furious at the mere mention of Jun-su by Dal-lae.

When Joon-soo and Dal-lae accidentally hug, her heart pounds, making her wonder if it is from surprise or passion. Later, Joon-soo reveals some secrets to her.

Dal-lae vows to keep Joon-soo out of her life. Yet, jealousy rears its ugly head when she hears he has a blind date that goes further than he intended.

Dal-lae gives the cold shoulder to a smitten Jun-su. Although Jun-seong has stood by Da-hae for twelve years, her heart is still set firmly on Jun-su.

Twelve years have passed. Go-sun's family is wildly successful, and Beom-suk is working in real estate. Jang-guk, now Jang Dal-lae, finally returns from the US.

After an accident, Jang-guk is rushed to the hospital. Unable to contact her, Jun-su is going crazy stuck in his house. Meanwhile, Go-sun tries to contact Se-min.

Jang-guk and Jun-su's relationship is causing a painful rift between their families. Meanwhile, Da-hae is stuck in the middle, feeling betrayed and jealous.

A furious Go-sun storms Jun-su's house and raises hell. With their mothers now at odds, Jang-guk finally gets in touch with Jun-su.

Go-sun is in despair after discovering her daughter's pregnancy. Feeling desperate, Jang-guk sets out to look for Jun-su who is nowhere to be found.

Jang-guk tries to forget about Jun-su and focus on her studies but to no avail. A dejected Yeong-hui is baffled by money that mysteriously shows up in her account.

Cheol-su disappears after his scandalous ways are exposed on national TV. Jun-su stands by Da-hae, which makes Jang-guk feel even more resentful and unsure.

Jun-su makes a decision to be with Jang-guk, but she's feeling confused and uncertain. Meanwhile, Se-min is feeling hesitant about swindling Go-sun.

The awkwardness between Jang-guk and Jun-su is palpable. Se-min and Go-sun are getting closer than ever, while Yeong-hui gives Cheol-su a call after much thought.

The fateful night approaches. Jun-su and Mu-cheol decide to help reconcile Jang-guk and Da-hae by watching the Korea-Spain match together.

As crowds cheer on World Cup teams, there is drama between the lovers. While it can seem like all is lost, destiny has a way of bringing people together again.

Jang Gook deftly maneuvers her way between Joon-soo and Da-hae, thereby complicating their relationship. So begins the excitement and some times of heartache.

Jang-guk's family moves to Seoul to start anew. After transferring to a new school, she's immediately distracted by a boy who catches her eye.

It's 2002, and while the rest of the country is caught up in World Cup fever, Jang-guk is dealing with the pain of losing her father.