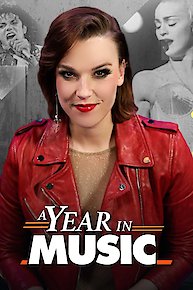 A Year In Music Full Episode Guide
Former VH1 and MTV VJ, Matt Pinfield discusses the defining moment of the year 1971. Pinfield touches on moments where each member of The Beatles starts their solo journey as well as women hitting the stage solo, the iconic voices of Barbra Streisand, Carole King, and Janis Joplin. Along with discussing how in 1971, music was activism, and Motown takes a stand.

SiriusXM and former MTV VJ, Downtown Julie Brown takes you back to the year 1979. Brown explores the tipping point in Pop music and hearts are touched as Rock music hits tragedy. The new age of Disco arrives, Michael Jackson is introduced and Gloria Gaynor releases an unforgettable hit. Don't forget the new streaming technologies introduced this year in music, and that is 1979.

Two iHeartRadio hosts and best friends, Carla Marie and Anthony, dive into the year 1994, a year where the "King of Pop" marries the daughter of the "King of Rock and Roll," Woodstock celebrates its 25th year anniversary, and Hip-Hop opens a door in music. Historical moments are aired on live tv and radio, world elections, high-speed chases, and the death of an icon.

Tommy Chong examines 1968's trending new genres, iconic artists and pop culture moments that propelled musicians to stardom.

Former MTV VJ Downtown Julie Brown explores monumental pop culture moments and music from the 1960s.
SiriusXM and former MTV VJ, Downtown Julie Brown, takes you back to the year 1985. Brown explores a time when cable TV was reaching critical mass, music videos became the cornerstone of pop culture, and half of the decade's top albums were on the charts.

Actor, writer, and musician, Tommy Chong dives into 1964: the year The Beatles took over, Motown Records became a driving force, and The Rolling Stones made their debut. Plus, a look at how political and social changes influenced pop music.

Former VH1 and MTV VJ, Matt Pinfield, discusses the defining moments of the year 1975. Pinfield touches upon powerhouse bands such as Led Zeppelin, Pink Floyd and others, along with discussing the upcoming political failures and economic crisis of 1975.

SiriusXM and form MTV VJ, Dowtown Julie Brown, takes a look back at the year 1983. Brown touches on moments that defined musical history such as the dawn of the MTV Age, music videos, heavy metal and more.

Actor, writer, and musician Tommy Chong takes you back to the unforgettable year of 1972. Chong examines the year's trending new genres, iconic artists, and movie soundtracks that propelled musicians to stardom.

Host American musician Don Felder review the year 1969.

Former VH1 and MTV VJ Matt Pinfield discusses key moments throughout the year 1966 while visiting Dr. Freecloud's Last Record Store Standing in Califormia. Pinfield dives into the year of '66 and explores the changing sounds in pop music, and the last stand of old school style legends such as Frank Sinatra.

From the warm and sunny sounds of Los Angeles to the dark and disgruntled sounds of New York City, pop music exploded into spectacular new directions during the year. While technology was rising in California studios, giving us the beautiful multi- tracked vocal harmonies of "Hotel California" and Fleetwood Mac's Rumours, riots, economic crisis, and a brutal heatwave led to the second rising of punk music from The Ramones, Talking Heads, The Clash, and Sex Pistols in New York City. Throughout 1977, Pink Floyd's iconic pig was just taking flight, the legendary Studio 54 had opened its doors, and Meatloaf was breaking through the scene with Bat Out Of Hell. We also were hit with the tragic news of The King, Elvis Presley's death and the plane crash that killed three members of Lynyrd Skynyrd.