Watch UnSung
This docuseries takes a close look at the careers of R&B pioneers, many of whom, despite being the inspiration for many pop stars, are virtually unknown to mainstream audiences. Each episode traces the career path of an individual artist r group.
Sunday 9:00 PM et/pt on TV One

14 Seasons,

143

Episodes

November 27, 2008

/

10

Cast:

Gary Anthony Williams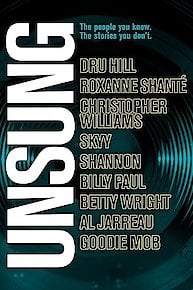 UnSung Full Episode Guide
Season
14
2 clips available
Mentored by Dr. Dre, R&B singer Michel'le takes the music scene by storm with her debut album; however, her mentorship and romantic attachments prove costly; after years of silence, Michel'le opens up about life as a survivor of domestic violence.

Episode

16

-

Will Downing

Singer Will Downing's 30-year career includes chart-topping singles; at the height of his career, a paralyzing bout with an autoimmune disease threatens his life; now, Downing reveals the hard-earned achievements and costs of a "soul" survivor.

Episode

15

-

Cheryl Pepsii Riley

In 1988, R&B singer Cheryl Pepsii Riley makes her mark with "Thanks for My Child," a tribute to single mothers, then her willingness to address provocative subjects helps derail her career.

Biography of BB King, the man who brought the blues out of the delta and into the mainstream, along with his guitar, "Lucille".

Episode

12

-

Regina Belle

Regina Belle brought the voice of an angel and the down home spirit of a Jersey Girl to score hit after in the 1990s, including her duet with Peabo Bryson on 'A Whole New World.' But her faith and fortitude were tested by a battle with brain cancer.

Episode

11

-

Digable Planets

The group Mtume combines jazz, funk and R&B to produce top-10 hits such as "Juicy Fruit," "You, Me and He" and "Breathless;" with the pressure to crossover, the group struggles to stay on top and disbands in the mid 1980s.

Episode

6

-

Shirley Caesar

Gospel singer Shirley Caesar is spotlighted.

R&R singer Deborah Cox is spotlighted.

R&B group The Boys are spotlighted.

In this season premiere, R&B group Silk are spotlighted.
With a no nonsense style and larger than life persona, Ice-T has lived nine lives: pimp, bank robber, DJ, army officer, con man and even award winning actor and producer.

Shanice exploded on the worldwide stage in the early 90's with the four simple words "I Love Your Smile.''

Episode

5

-

The Dramatics

Soul group The Dramatics are profiled.

R&B and funk band Switch are profiled.

Gospel singer Marvin Sapp is profiled.

R&B group Jagged Edge are profiled.
If You Like UnSung, Then Try...