Watch UnSung
This docuseries takes a close look at the careers of R&B pioneers, many of whom, despite being the inspiration for many pop stars, are virtually unknown to mainstream audiences. Each episode traces the career path of an individual artist r group.
Sunday 9:00 PM et/pt on TV One

16 Seasons,

160

Episodes

November 27, 2008

/

10

Cast:

Al B. Sure!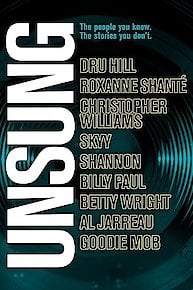 UnSung Full Episode Guide
CeeLo thought everything was good when he decided to leave Goodie Mob to go solo, but that wasn't the case. Here's what other group members had to say.

With the classic 'Me and Mrs. Jones,' Billy Paul's mix of jazz and R&B helped define the emerging Philadelphia sound; but substance abuse and political controversy threatened to derail his career.

With her 1983 breakthrough hit "Let The Music Play," "Shannon", was at the helm of a genre-defining dance sound that blended dance, Latin and hip hop.

A homegrown product of Brooklyn, New York, Skyy, scored top hits a decade apart, from 'Call Me' to 'Real Love', while dazzling fans with futuristic looks and dance moves.

Episode

3

-

Christopher Williams

Singer Christopher Williams emerges during the late 1980s with a string of new jack swing hits and a pretty-boy look, but his career is derailed by scandals and arrests.

Episode

2

-

Roxanne Shante

Roxanne Shante used her fierce battle rap skills, honed during street battles with local MC's for cash.

When their debut album produced four top singles, Dru Hill seemed destined for superstardom. But clashes with their label and each other all but derailed their career.
Tasha Cobbs' fresh mix of R&B and hip-hop infused gospel brings her crossover success while provoking controversy within her own religious community.

Episode

7

-

Kenny Lattimore

Kenny Lattimore helps spark an R&B revival in the mid 1990s with a smooth sound and a look to match; however, a rocky divorce from singer Chante Moore eventually overshadows his career.

R&B singer Glenn Jones lights up the airwaves in the 1980s and 1990s with love ballads that make women swoon; later, he battles financial woes and a health crisis that imperils is life.

Episode

5

-

Crystal Waters

With 12 No. 1 Billboard Dance Chart hits, Crystal Waters becomes one of the most influential voices in dance music; when dance music fades out in the late 1990s, she has to revive her career and reputation on her own.

Episode

4

-

Shirley Murdock

Shirley Murdock is that rare singer-songwriter who is revered by fans of pop, R&B, dance music and gospel. But at the height or her career, an unthinkable tragedy tested her fortitude and her faith.

Made up of five brothers and three sisters of Polynesian descent, The Jets rise to success in the mid 1980s putting a surprising twist on the Minneapolis sound.

Adina Howard, featuring Mothers Favorite Child, performs 'T-shirt & Panties.'

Hip-hop artist Lloyd becomes heartthrob with hits such as "Southside," "Get It Shawty" and "You," but his ties to the Murder Inc. record label nearly puts an end to his career.
Season
14
2 clips available
Most Popular UnSung Episodes