For My Man
"For My Man" features the outrageous and shocking stories of women who have been arrested for a crime they committed in the name of love. From a killing spree across the mid-west to an inside informant at the DEA, these women have no limits as to how far they will go to support their men. These are the stories of the obsessions and weakness that fueled their fall from grace.
Monday 10:00 PM et/pt on TV One

1 Season,

95

Episodes

September 7, 2015

/

10

Cast:

Matt Gulbranson, Glenn Nelson, David Hammond, Angelz Nation Global Group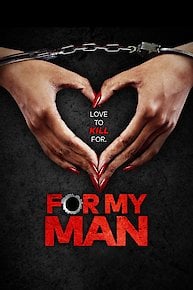 For My Man Full Episode Guide
Episode

36

-

Wolf In Sheep's Clothing

Episode

35

-

Boy Next Door

Episode

34

-

Fallen From Redemption

Episode

33

-

Led Astray By Love

When a woman unlucky in love meets a smooth-talking older man, she thinks she has finally found someone to start a life with. But when detectives come knocking on her door after a woman goes missing, they discover a woman willing to do whatever it took to keep her man satisfied.

Episode

32

-

Road To Trouble

A gifted high school cheerleader's bright plans for the future turn dark when she falls in love with an up-and-coming rapper and ex-con. Before long, she finds herself going down a road to trouble by hiding her relationship and risking her future in order to appease her man.

Episode

31

-

Risking It All

When a series of brazen, armed robberies strike local businesses in a tranquil community in Wisconsin, detectives find themselves with few clues to help them identify the perpetrators. That is, until police track down real-life Bonnie and Clyde willing to risk it all in the name of love.

Episode

30

-

Blind Devotion

Episode

29

-

Dangerously Desperate

Police are stunned when two young men are brutally gunned down in their own backyard. A search for the killer sends investigators into the tempestuous world of a desperate and heartbroken lover, and a complex WEB OF LIES that conceals the heinous truth.

Episode

28

-

Crossing the Line

Episode

27

-

Flirting with Danger

A frantic 911 call leads investigators to the scene of a brutal double homicide outside of Atlanta; as police hunt for clues, a run-of-the-mill traffic stop leads them to a surprising suspect.

Episode

26

-

Loving in Fear

A beautiful college student drops everything to run away with her new man, only to return home nine months later with a shocking story about a brutal murder, a drug kingpin and the destructive desire at the center of her secret life.

Episode

25

-

Young and Naive

A teenage girl falls for a handsome older man, then a gruesome discovery reveals that this love story has a dark side; before long, police are on the trail of a teen who will go to any lengths to be with her man.

Episode

24

-

Baited by Love

A beautiful college student falls under the spell of a so-called bad boy; during their whirlwind romance, he encourages her to join him in engaging in criminal activities.

Episode

23

-

No Good Deed Goes Unpunished

A church deacon is found dead after an apartment fire, and the evidence points to foul play.

Episode

22

-

Deadly Devotion

In Burlington, N.C., gunfire erupts at a park killing a 21-year-old man; police are shocked when their investigation leads them to a "good girl" whose love for a "bad boy" has pushed her into a violent world of vice.

Episode

21

-

Driven to the Edge

Detroit is shaken to the core after a well-respected community member is gunned down during a robbery.

Episode

20

-

Living a Lie

After a newborn baby girl vanishes from the hospital without a trace, people are galvanized into a nationwide search to find her.

Episode

19

-

Happily Never After

A mother of three is beaten and stabbed multiple times in her own home, and police are desperate to make sense of her killing.

Episode

18

-

Fanning the Flames

After an 18-year-old woman is gunned down in cold blood, detectives discover a mysterious man has been pitting the shooter and the victim against each other.

When the bodies of a missing couple surface in the waters around New Orleans, detectives wonder who could have committed such a heinous crime.

Episode

16

-

Circle of Trust

A close-knit community is gripped with fear after two families are found brutally murdered; as police seek to unravel the mystery, it leads them down a trail of lies, proving no one can be trusted, even loved ones.

Episode

15

-

The Wrong Mr. Right

A double homicide in a California neighborhood leaves investigators tracking a case with more questions than answers; when a high-speed car chase leads them to a pretty young woman, it is clear she is willing to do wrong to impress her Mr. Right.

Episode

14

-

Love on the Run

A young model meets a handsome man while grieving for her late father, and her future suddenly seems brighter; soon, she finds herself following this charmer down a dark road, destroying anyone who gets in their way, all in the name of love.

Episode

13

-

Bound by Blood

Random shootings on Christmas Day strike fear in the hearts of citizens in Dayton, Ohio; police uncover evidence that the crimes may be connected to a band of young killers, whose thirst for blood results from a teenage romance gone wrong.

Episode

12

-

Ashley Owens / Nicole Eason

Teenage mother Ashley Owens struggles to make ends meet until she falls for a bad boy who has a plan to get some easy cash; Nicole Eason dreams of giving her husband a family and uses deceit to fill their home with children.

Episode

11

-

Leslie Gordon / Erica Sheppard

Leslie Gordon hopes that a vacation with her man will bring them closer together, but he lets her in on a devilish plan, turning her dream getaway into a nightmare; Erica Sheppard runs away from an abusive relationship with her ex.

Episode

10

-

Ciera Johnson / Krystal Riordan

Ciera Johnson lives a righteous life, but she goes to extremes to prove her love for her boyfriend; Krystal Riordan goes from rags to riches when she is adopted by a loving family.

Episode

9

-

Sandra Holling / Briana Hood

In Ohio, Sandra Holling always falls for the wrong type of man, then she falls for the ultimate bad boy, joining him in his deadly fantasies; in Athens, Ga., Briana Hood truly believes she has married the love of her life.

Episode

8

-

Dorthia Bynum / Lillian Roberts

Dorthia Bynum is looking for someone to heal her emotional scars; when a couple holds a young boy hostage, it leads them all on a terrifying journey from which there's no return.

Episode

7

-

Chicwanda Forbes / Carter Cerantez

Chicwanda Forbes gets the attention she craves from an older man in exchange for her loyalty; Carter Carol Cervantez begins to rethink her priorities when she finds love at the workplace.

Episode

6

-

Althea Housley / Jeri Woods

Althea Housley struggles to put food on the table, so when her soul mate reveals a plan to make their dreams come true, she can't deny him; Jeri Woods demonstrates to her 10 children how loyal they must be to her domineering husband.

Episode

5

-

Stephanie George / Yenesis Alfonso

Pensacola, Fla., native Stephanie George places her trust in an ex and gambles with her entire future; in Sin City, Yenesis Alfonso loves the glitter and gold her man provides, but their lavish lifestyle goes up in flames.

Episode

4

-

Ashley Jones / Darlene Binyard

In Alabama, abused teenager Ashley Jones finds stability with bad boy Geramie Hart, and she'll go to extreme measures to keep him; in Michigan, a ride-or-die couple falls when numerous armed robberies guide police directly to their doorstep.

Episode

3

-

Kimberly King / Brittney Beasley

Episode

2

-

Vanessa Claude / Mary Ann Arnold

Episode

1

-

Eboni Fingal / Larlane Pannell-brown

In Kansas, teenager Eboni Fingal puts her promising future in jeopardy when she falls for the wrong man; in Maryland, Larlane Pannell-Brown has the perfect life and husband, but she'll do anything to hold on to her new younger man.
Episode

19

-

Kiesha Pugh; Tonisha Harris

Episode

18

-

Kiesha Pugh; Tonisha Harris

In Florida, Kiesha Pugh meets a man who becomes the sunshine she's been dreaming of. But when money runs low, she winds up in a deadly scheme that goes up in flames. And in Dayton, Ohio, Tonisha Harris turns over a new leaf to provide for her family, until her man asks her to help clean up his dirty deeds.

Episode

17

-

Ohioan Mcfarland; Renee Harris

As a single mom, Ohioan Sheila McFarland has always longed for a man to get her through the day to day. But when she meets local drug hustler Eddie "The Man" Brownlee, her already unstable world is about to be thrown even more off course. And in Georgia, a couple risks it all when a botched robbery leaves them high and dry.

Episode

16

-

Marryssa Middleton; Melanie Costantin...

Marryssa Middleton believes she has found the love of her life. But once her lovers true colors are revealed, she's in too deep to get out. Later, Melanie Costantini moves to Sin City with her high school sweetheart in search of a fresh start. But when the bills pile up, her man sets up a diabolical plan.

Episode

15

-

Damonica Evans; Jennifer Simpson

Texas duo Damonica Evans and Brandon Daniels are looking for a fresh start, until a get-rich-quick scheme goes awry, landing them in the long arms of the law. Meanwhile, teen Jennifer Simpson's loving husband ropes her into a heinous crime that changes their small town forever.

Episode

14

-

Labria Paige; Laquan Brown

Growing up on the rough and tumble streets of Baltimore, Maryland, aspiring nurse Labria Paige has managed to rise above the odds. But when she reconnects with a bad boy from her past, she gets caught in a family feud that will change her life forever. And in Savannah, a couple risks it all for love when their crime spree takes a deadly turn.

Episode

13

-

Kayla Dixon; Eileen Huber

Georgia teen Kayla Dixon scrambles at a fighting chance at surviving her youth, but the safety net she finds in her new man comes at a deadly cost. When high school drop out Eileen Huber falls for her former classmate, he leads her on a torturous rampage sweeping the San Gabriel Valley.

Episode

12

-

Brenda Humphrey; Jinea Ingram

Brenda Humphrey falls for a man with a criminal past. But when things don't go as planned, she goes to great lengths to keep her man happy. And later, Jinea Ingram never wants for a great time, until she falls for a man who assigns her to his thievish plan.

Episode

11

-

Jennifer Brundage; Chade Harris

Jennifer Brundage has found the love of her life. But when distance threatens to keep them apart, she goes to great lengths to hold on to her man. Chade Harris has always played by the rules, until she meets a man that takes her on an unlawful ride.

Episode

10

-

Alexis Granger; Desirae Blanchard

A woman becomes the victim of a pimp in the Bible Belt. Also: a woman tries to find her place in the world and a lover sweeps her off her feet.

Episode

9

-

Erica Pugh; Yamiley Mathurin

After a tumultuous childhood, Erica Pugh longs to break free from her parent's strict rules; Yamiley Mathurin's lover derails her promising future.

Episode

8

-

Shakina Feazell; Tonie Marie Williams...

Shakina Feazell finds love while struggling with addiction; Tonie Marie Williams-Irby's new love wants to steal more than her heart.

Episode

7

-

Tiffani Jacobs/jackie Wortham

In the Season 4 premiere, a woman falls msyterious ill and looks for a man to help her feel normal. Also: a woman scorches a path of destruction with a lover who fuels her fire.

Episode

6

-

Keeairra Dashiell/Shameeka Watson

Keeairra Dashiell was your typical girl next door until she met football star, Tyquan Knox; who tackled her heart and convinced her to do the unthinkable. Later, Shameeka Watson's fiery temper leads her and her husband, Clarence McCord III, to commit a horrendous murder.

Episode

5

-

Jennifer Helmedach/lashonda Williams

A couple decide to rob a friend and it ends in tragedy. Also: in Memphis, a couple get trapped in a world of sex crimes that end in bloodshed.

Episode

4

-

Donna Roberts/alisa Dejesus

A married woman falls for a man half her age. Also: a couple decide to hail a cab with plans to run away without paying after being homeless.

Episode

3

-

Shatura Simonee/adriana Mason

Long Islander Shatura Simonee's forbidden hook ups lead to a deadly family confrontation. Later, Adriana Mason wants to impress her new dealer boyfriend, by helping him steal back his drug money.

Episode

2

-

Shante Thomas / Tina Leja

Shante Thomas had everything going for her until she met DeAndre Minkens and became a part of a deadly plan that will change her life forever. Later, Tina Leja's jailhouse romance with Darnell Smith sparks a jealous rage that leads to murder.

Episode

1

-

Dominique Atkinson/destiny Young

Single parent Dominique Atkinson is looking for love when she is introduced to Marquis Cheatham, a cocky young Marine. When their romance starts to brew, she finds out that he's married and the new couple takes drastic measures to eliminate his wife.