For My Man
"For My Man" features the outrageous and shocking stories of women who have been arrested for a crime they committed in the name of love. From a killing spree across the mid-west to an inside informant at the DEA, these women have no limits as to how far they will go to support their men. These are the stories of the obsessions and weakness that fueled their fall from grace.
Monday 10:00 PM et/pt on TV One

6 Seasons,

102

Episodes

September 7, 2015

/

10

Cast:

Matt Gulbranson, Glenn Nelson, David Hammond, Angelz Nation Global Group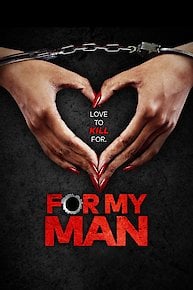 For My Man Full Episode Guide
Episode

7

-

Along For The Ride

Episode

6

-

Master Of Deception

Episode

5

-

Patterns Of Chaos

After escaping a bad relationship, a young woman thinks she finally found Mr. Right. But soon, she realizes her new man is actually worse than her ex.

Episode

4

-

Driving Force (Jasha Howard)

Jasha Howard is a beautiful and ambitious woman who falls for a charming bad boy. He offers her the excitement and rebellion she has always been longing for. He entices Howard to become his partner in crime and together they pull off a dangerous bank heist. He convinces her they need the money for their future and coaches her every step of the way. She agrees with the plan hoping to prove her loyalty to her man and start a new life together as a family. The Bonnie and Clyde relationship soon begins to spiral out of control and her idea of being a "ride or die" soon takes a turn when local authorities begin to catch up to them.

Episode

3

-

Facing The Music (Marsha Bernard)

Marsha Bernard made it her mission to make Jamaica's hottest dance hall DJ her newest beau when she saw him performing and he hand-picked her from the crowd to come on stage. Determined to defeat her competition and seek his attention, Bernard risked it all to be his number one by being loyal and supporting his international drug empire. However, the relationship takes a turn when he leaves the country and abandons her with tons of narcotics with the intention of framing her.

Episode

2

-

Conflicting Vows (Ashley Bailey)

New to the police force, Ashley Bailey is determined to provide a better life for her family until she discovers her husband has been hanging around with some shady characters. Bailey begins to launch her own investigation and suspects they have been participating in a massive drug ring. Although she doesn't condone her husband's indiscretions, she loves him and chooses to stand by his side. Soon, a sting operation reveals her connection to the drug ring through her husband and fellow police officers believe she may be leaking top secret information to him and his associates. Faced with the evidence against her, Bailey is forced to make a difficult decision on upholding her oath to the police force or honoring her marriage vows and remaining loyal to her husband.

Episode

1

-

Ruled By Love (Michelle Miles)

Swept off her feet by a flashy older man who lavishes her with attention and gifts, Michelle Miles becomes shocked to learn her new man is actually the kingpin of a massive interstate drug operation. While hesitant about the budding relationship, Miles is awed by his influence and power until he introduces her to his world of crime. As a loyal woman, she decides to stand by his side and become his queen. He teaches her everything she needs to know - how to prepare, package and manage the money from the drugs. However, when the federal and local authorities launch a major investigation into the drug ring, Miles' loyalty is tested.
Episode

36

-

Wolf In Sheep's Clothing

Episode

35

-

Boy Next Door

Episode

34

-

Fallen From Redemption

Episode

33

-

Led Astray By Love

When a woman unlucky in love meets a smooth-talking older man, she thinks she has finally found someone to start a life with. But when detectives come knocking on her door after a woman goes missing, they discover a woman willing to do whatever it took to keep her man satisfied.

Episode

32

-

Road To Trouble

A gifted high school cheerleader's bright plans for the future turn dark when she falls in love with an up-and-coming rapper and ex-con. Before long, she finds herself going down a road to trouble by hiding her relationship and risking her future in order to appease her man.

Episode

31

-

Risking It All

When a series of brazen, armed robberies strike local businesses in a tranquil community in Wisconsin, detectives find themselves with few clues to help them identify the perpetrators. That is, until police track down real-life Bonnie and Clyde willing to risk it all in the name of love.

Episode

30

-

Blind Devotion

Episode

29

-

Dangerously Desperate

Police are stunned when two young men are brutally gunned down in their own backyard. A search for the killer sends investigators into the tempestuous world of a desperate and heartbroken lover, and a complex WEB OF LIES that conceals the heinous truth.

Episode

28

-

Crossing the Line

Episode

27

-

Flirting with Danger

A frantic 911 call leads investigators to the scene of a brutal double homicide outside of Atlanta; as police hunt for clues, a run-of-the-mill traffic stop leads them to a surprising suspect.

Episode

26

-

Loving in Fear

A beautiful college student drops everything to run away with her new man, only to return home nine months later with a shocking story about a brutal murder, a drug kingpin and the destructive desire at the center of her secret life.

Episode

25

-

Young and Naive

A teenage girl falls for a handsome older man, then a gruesome discovery reveals that this love story has a dark side; before long, police are on the trail of a teen who will go to any lengths to be with her man.

Episode

24

-

Baited by Love

A beautiful college student falls under the spell of a so-called bad boy; during their whirlwind romance, he encourages her to join him in engaging in criminal activities.

Episode

23

-

No Good Deed Goes Unpunished

A church deacon is found dead after an apartment fire, and the evidence points to foul play.

Episode

22

-

Deadly Devotion

In Burlington, N.C., gunfire erupts at a park killing a 21-year-old man; police are shocked when their investigation leads them to a "good girl" whose love for a "bad boy" has pushed her into a violent world of vice.

Episode

21

-

Driven to the Edge

Detroit is shaken to the core after a well-respected community member is gunned down during a robbery.

Episode

20

-

Living a Lie

After a newborn baby girl vanishes from the hospital without a trace, people are galvanized into a nationwide search to find her.

Episode

19

-

Happily Never After

A mother of three is beaten and stabbed multiple times in her own home, and police are desperate to make sense of her killing.

Episode

18

-

Fanning the Flames

After an 18-year-old woman is gunned down in cold blood, detectives discover a mysterious man has been pitting the shooter and the victim against each other.

When the bodies of a missing couple surface in the waters around New Orleans, detectives wonder who could have committed such a heinous crime.

Episode

16

-

Circle of Trust

A close-knit community is gripped with fear after two families are found brutally murdered; as police seek to unravel the mystery, it leads them down a trail of lies, proving no one can be trusted, even loved ones.

Episode

15

-

The Wrong Mr. Right

A double homicide in a California neighborhood leaves investigators tracking a case with more questions than answers; when a high-speed car chase leads them to a pretty young woman, it is clear she is willing to do wrong to impress her Mr. Right.

Episode

14

-

Love on the Run

A young model meets a handsome man while grieving for her late father, and her future suddenly seems brighter; soon, she finds herself following this charmer down a dark road, destroying anyone who gets in their way, all in the name of love.

Episode

13

-

Bound by Blood

Random shootings on Christmas Day strike fear in the hearts of citizens in Dayton, Ohio; police uncover evidence that the crimes may be connected to a band of young killers, whose thirst for blood results from a teenage romance gone wrong.

Episode

12

-

Ashley Owens / Nicole Eason

Teenage mother Ashley Owens struggles to make ends meet until she falls for a bad boy who has a plan to get some easy cash; Nicole Eason dreams of giving her husband a family and uses deceit to fill their home with children.

Episode

11

-

Leslie Gordon / Erica Sheppard

Leslie Gordon hopes that a vacation with her man will bring them closer together, but he lets her in on a devilish plan, turning her dream getaway into a nightmare; Erica Sheppard runs away from an abusive relationship with her ex.

Episode

10

-

Ciera Johnson / Krystal Riordan

Ciera Johnson lives a righteous life, but she goes to extremes to prove her love for her boyfriend; Krystal Riordan goes from rags to riches when she is adopted by a loving family.

Episode

9

-

Sandra Holling / Briana Hood

In Ohio, Sandra Holling always falls for the wrong type of man, then she falls for the ultimate bad boy, joining him in his deadly fantasies; in Athens, Ga., Briana Hood truly believes she has married the love of her life.

Episode

8

-

Dorthia Bynum / Lillian Roberts

Dorthia Bynum is looking for someone to heal her emotional scars; when a couple holds a young boy hostage, it leads them all on a terrifying journey from which there's no return.

Episode

7

-

Chicwanda Forbes / Carter Cerantez

Chicwanda Forbes gets the attention she craves from an older man in exchange for her loyalty; Carter Carol Cervantez begins to rethink her priorities when she finds love at the workplace.

Episode

6

-

Althea Housley / Jeri Woods

Althea Housley struggles to put food on the table, so when her soul mate reveals a plan to make their dreams come true, she can't deny him; Jeri Woods demonstrates to her 10 children how loyal they must be to her domineering husband.

Episode

5

-

Stephanie George / Yenesis Alfonso

Pensacola, Fla., native Stephanie George places her trust in an ex and gambles with her entire future; in Sin City, Yenesis Alfonso loves the glitter and gold her man provides, but their lavish lifestyle goes up in flames.

Episode

4

-

Ashley Jones / Darlene Binyard

In Alabama, abused teenager Ashley Jones finds stability with bad boy Geramie Hart, and she'll go to extreme measures to keep him; in Michigan, a ride-or-die couple falls when numerous armed robberies guide police directly to their doorstep.

Episode

3

-

Kimberly King / Brittney Beasley

Episode

2

-

Vanessa Claude / Mary Ann Arnold

Episode

1

-

Eboni Fingal / Larlane Pannell-brown

In Kansas, teenager Eboni Fingal puts her promising future in jeopardy when she falls for the wrong man; in Maryland, Larlane Pannell-Brown has the perfect life and husband, but she'll do anything to hold on to her new younger man.