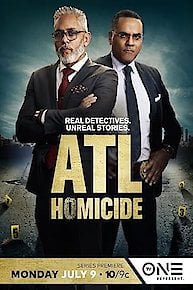 ATL Homicide Full Episode Guide
Episode

12

-

Homeless Serial Killer

After a homeless man is shot and killed, Quinn and Velazquez assume it's a simple case; after reports come back matching the murder scene to other ongoing murder cases, the detectives realize they're on the trail of a serial killer.

Episode

11

-

Mamadou Berry

After immigrant Mamadou Berry is murdered, Quinn and Velazquez seek to find his killer; the yearlong investigation pits the detectives against the International Robbin Crew, a ruthless and deadly Atlanta gang.

Episode

10

-

Apriel Allen

Longtime partners Quinn and Velazquez are chosen to solve the case of Apriel Allen, a woman who was murdered in her apartment two years prior; the detectives begin with a clean slate and hope to bring some peace to Allen's loved ones.

Episode

9

-

Antwan Curry aka Red Handed

Episode

8

-

Cassandra Bryant

Detectives are sent to an apartment complex to investigate when 38-year-old Cassandra Bryant is found nude and barely clinging to life. She dies in the ambulance before she can identify her attacker, leaving it up to Quinn and Velazquez.

Episode

7

-

The Naked Man

Episode

6

-

Ghosts of the Past

Quinn and Velazquez are called when Jerry Heard is found dead from gunshot wounds. They learn Heard spends his nights at a local bar, and the night he was killed, he made passes at two different women, one with an armed boyfriend. With at least three potential suspects, the detectives get to work.

Episode

5

-

Forbidden Love

21-year-old new mother, Sparkle Rai, is found by her boyfriend strangled in their apartment. He instantly becomes the only suspect, but he swears he didn't do it. Quinn and Velazquez investigate and uncover a surprising new suspect from Sparkle's past.

Episode

4

-

Murder on the DL

When U.S. Air Force veteran John Ray is found beaten and stabbed to death in his apartment, the crime scene looks like a random robbery. But Quinn and Velazquez look further into the secretive life of Ray and find that the murder was anything but random.

Episode

3

-

Deadly Affairs

Mother Shaquilla Weatherspoon is found murdered with her belongings scattered around her. To the trained eye, it looks like the killer staged the crime scene. Knowing that someone wanted it to look like a robbery, the detectives investigate those closest to Shaquilla to find the truth.