Fatal Attraction
Fatal Attraction is a one hour show that airs on Monday nights on TV One. The show is about a dangerous romance which results in death. Each episode there's a couple who meets and fall in love. Somehow there's friction in the relationship and results in violence. The family and the officers are interviewed and they tell their side of the story from what they know. There's a reenactment in each episode which shows the tragic event of the person's demise. The show is in its third season and is still going strong. Fatal Attraction has new episodes on Monday nights on TV One.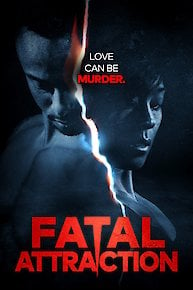 Fatal Attraction Full Episode Guide
Episode

50

-

Without Warning

When a homeowner in a troubled Brooklyn neighborhood is gunned down at his front door, police suspect a robbery gone bad. But after the victim's wife recognizes one of the men seen on security video entering the house, investigators uncover a ruthless murder plot driven by jealousy and greed.

Episode

49

-

Dangerous Love

Episode

48

-

A Sinner's Secret

Episode

47

-

Senseless Slaying

When a young mother is found stabbed over 30 times, police wonder, could it be a revenge killing, the act of a jealous ex, or a crime of passion by a current lover?

Episode

46

-

Casualty of Love

When an Army sergeant home on leave is gun downed on New Year's Eve, police suspect the straight-arrow soldier may have been killed over beef with someone from his past.

Episode

45

-

Field of Deception

When a young mother is found shot dead, investigators uncover a twisted web of jealousy and a love triangle that could be to blame.

Episode

44

-

Capital Murder

When a hard-working mother of three disappears during her lunch hour, investigators wonder who could have targeted her

Episode

43

-

Masked Secrets

A young Detroit woman seems to have it all

Episode

42

-

Grave Betrayal

When a former Miss Bahamas contestant disappears in Florida, her family fears something horrible has happened to her. As detectives start investigating, they quickly focus on a jealous boyfriend and a secret hook-up with an off-duty cop

Episode

41

-

Storm Of Lies

When pregnant mother Megan Price is found dead in her home, there's evidence that multiple people didn't want her new baby to see the light of day. But a storm of clues keep leading to dead ends

Episode

40

-

Mask Of A Killer

When the family of Shalisa O'Dell find her beaten to death at home, police immediately look at her boyfriend and ex as suspects. But as they uncover more about Shalisa, including her moonlighting job at a gentleman's club, the suspect list grows. Did someone develop a deadly obsession with Shalisa, or does this murder hit closer to home?

Episode

39

-

False Redemption

When newlywed Trina Winston goes missing, her family initially fears she's fallen back into the old drug habits she's worked so hard to move past. But as police start looking for her, they learn there are even more sinister secrets lurking in the background

Episode

38

-

Killer On The Run

Episode

37

-

Hiding In Plain Sight

When LaJoya McCoy's close-knit family requests a welfare check after they haven't heard from her in days, all signs point to foul play. Investigators race to find the missing mother of two

Episode

36

-

Web Of Seduction

Episode

35

-

An Unlikely Mastermind

A man with a criminal past is found shot dead in a creek, leaving no shortage of suspects. With his flashy lifestyle and multiple exes, he may have been an easy target.

Episode

34

-

Blazing Deception

When Monica Sykes disappears, questions start swirling around about the men in her life, including a current boyfriend, a recent ex and a young police officer. What detectives can't know is that a car found, across town, mysteriously engulfed in flames will eventually lead them to the sinister answers about what happened to Monica.

Episode

33

-

One Step Ahead

How did university student Cory Robinson end up dead in an extended stay hotel room? While sifting through his love affairs, investigators catch wind of a mysterious person, whose true identity must be revealed to solve the crime.

Episode

32

-

Fueled By Rage

Two carpooling commuters find the body of a woman in a parking lot, with her throat slashed. The savage wounds suggest the murder was a crime of passion fueled by rage. But whose rage? Was she killed by her estranged husband

Episode

31

-

Lying In Wait

When a decorated Navy commander is found dead in a hotel room, those close to him suspect suicide; when autopsy results point to homicide, investigators sort through numerous lies to uncover a calculated plot fueled by lust and greed.

Episode

30

-

Flames Of Betrayal

Firefighters responding to an apartment fire make a grisly discovery: the charred body of a young woman. Detectives investigating the case wonder if this is the work of a killer who murdered four people only a few days earlier? As police dig deeper, they'll discover clues that point to the killer's greed.

Episode

29

-

Holiday Homicide

In Detroit, Michigan, a cop's wife is killed in what looks like a botched robbery. As secrets simmer to the surface, police suspect a more personal motive. But the pieces of the puzzle don't fit; until, a shocking confession blows the case wide open.

Episode

28

-

Engaged to Murder

Episode

27

-

Runaway Love

When a 26 year-old mother goes suddenly missing, no one knows what to think. Could she have had an accident? Or could she have run away to start a new life? The truth turns out to be far more shocking than anything anyone ever imagined.

Episode

26

-

Shot In The Dark

The search for the killer of a cheerleader who was found murdered in her bed ends in a dramatic rooftop chase.

Episode

25

-

A Shot In The Crowd

When a 21-year-old woman is shot dead in a bad part of town, police have to find out if it was simply gang related or perhaps a twisted love triangle. It isn't until two terrified young women come forward claiming to have witnessed the shooting, that the case breaks wide open.

Episode

24

-

Acts Of Rage

When a transgender woman goes missing in a small town, police suspect she may have disappeared in order to complete her transition, far from a family struggling to come to terms of who she was. But after a statewide search locates the woman's car, investigators take a closer look at the men she met through online dating apps.

Episode

23

-

Bonds Of Love

Episode

22

-

Caught In A Lie

Episode

21

-

Swipe Right For Murder

When a successful contractor is found murdered in his garage, suspicion falls on women he met through an online dating app. What police think could be a simple crime of passion, turns into an elaborate murder conspiracy ending with the tragic death of a man who was just trying to do the right thing.

Episode

20

-

The Helping Hand

Former soldier P.J. Jennings, Jr. was always there to help a person in need until he was found dead in his own apartment. After discovering a mysterious piece of paper in P.J.'s shirt pocket, police are forced to consider the possibility that his selflessness may have been his demise.

Episode

19

-

Next Stop, Murder

When three victims are gunned down at a suburban bus stop, no one knows who the intended target was or what the motive could be. Detectives pursue every possible angle, until finally uncovering a conspiracy with an unbelievable criminal mastermind.

Episode

18

-

Bloody Superstition

When two immigrants from Ghana are found murdered in their million-dollar Maryland home, the search for the killer unexpectedly leads investigators into the world of Caribbean religion. As they uncover a deadly conspiracy, the police are shocked to find themselves the target of a voodoo curse.

Episode

17

-

Love On The Run

A Jane Doe is found burned beyond recognition in a New York state park. Meanwhile, an hour and a half away in the Bronx, Jasmine Nunez disappears with her boyfriend. These two cases are ultimately intertwined, but no one could guess how until the unexpected end.

Episode

16

-

Strangers In The Park

When a single mother is shot outside her home, investigators turn to witnesses for a list of suspects. After a gang member fleeing the scene is identified, he makes a surprising confession that puts him behind bars

Episode

15

-

Last Valentine

Pamela Butler was established in her life, and in love. Then she vanished. Her family becomes frantic searching for answers as authorities find no evidence of foul play or anything suspicious on her home security footage. The case goes cold -- until a sudden discovery exposes a heinous pattern of deception and violence.

Episode

14

-

At All Costs

A lottery winner, business owner, and family man seemed to have it all until he was found dead inside his own van. Police suspect his multi-million-dollar fortune is at the root of his murder, but they soon uncover a dark and disturbing secret that sends shockwaves through his family.

Episode

13

-

Bound By Love

Police scramble to solve the murder of a young mother of three, when she is found bound hand and foot in a bathtub in Phenix City, Alabama. As detectives sift through her life, uncovering past lovers and ex-cons, they reveal the heart wrenching truth behind the impulsive decision that ended her life.

When a pregnant woman's body is found floating in the Hudson River detectives suspect suicide, but as new evidence surfaces, officers suddenly have a homicide on their hands. The killer remains elusive; until, police dust off the files of an unsolved crime, revealing the killer might be closer than they think.

Episode

11

-

Bound By Love

Episode

9

-

Secrets By The River

When Danielle Locklear goes missing, her family is baffled as to where she could have gone and her community bands together in the search for the missing teen. Eventually though the trail goes cold until a horrific discovery by the river sends shockwaves through the community.

Marcus and Lisa Toney were a Chicago power couple destined for great things. But when a bomb exploded, killing Marcus instantly, police wonder who would have wanted to murder this upstanding man? Finding the killer won't be easy, but once the puppet master finally speaks, the unimaginable truth emerges.

Episode

7

-

A Calculated Plot

Episode

6

-

Poisoned Mind

Episode

5

-

Where Evil Lurks

In Dale, S.C., a woman and her two children are found shot in the head; while investigators fear there could be more carnage, the cold-hearted truth will shake this community to its core.

Episode

4

-

All For Nothing

Episode

3

-

Driven By Revenge

Episode

2

-

Left For Dead

Episode

1

-

Unbridled Greed

When a retired Chicago steelworker is gunned down outside his home, police suspect he was targeted by a street gang in retaliation for reporting crimes in the neighborhood. But when the victim's daughter follows her own suspicions, she finds a tangled web of deceit with a conspiracy that could ensnare the people closest to her.
Episode

31

-

Whisper In The Woods

The disappearance of a young mother and her three-year-old son turns a small southern town upside-down. Family members are quick to suspect foul play has befallen this devoted mother of two, and as night falls with no sign of their return, the community bands together in the search effort. Will rescuers be able to reach them in time or will it be too late?

Episode

30

-

Vigilante Justice

Episode

29

-

Sinister Scheme

When a married couple is gunned down in their car just yards from their home, police suspect it may be a crime of passion. But at the heart of this mystery lies an unimaginable conspiracy, fueled by a far more complicated and sinister motive.

Episode

28

-

Behind Locked Doors

Theresa Williams was a mother of four who dedicated her life to giving love to those who needed it most. But when her sister feels in her heart something is terribly wrong, she arrives at Theresa's home to find her two youngest children wandering around outside and Theresa brutally murdered behind locked doors.

Episode

27

-

The Masked Killer

A masked gunman surprises a woman and her lover in bed. After a burst of gunfire leaves the lover dead, the woman says she can ID the disguised gunman. Detectives hope phone records can prove her right.

Episode

26

-

Unforeseen Enemy

When a young mother is taken too soon, all the evidence seems to point to an obvious suspect. But is this case really what it seems? Just when detectives think they have this case closed, new information will send them scrambling, and will leave everyone fearing this mystery may never be solved.

Episode

25

-

Deserted By Love

Alice Sin was a beautiful young mother dedicated to her child and her man, so when she vanishes without a trace from the small town of Pinole, California just days before her son's first birthday, her friends and family are desperate to figure what could have happened. But answers won't come quick

Episode

24

-

Derrick Tolliver

Days before her son's first birthday, young mother, Alice Sin suddenly disappears without a trace leaving her family and friends frightened and unsure of what has happened to her. Authorities begin the fast-paced and tedious work of putting the pieces of the puzzle together in order to locate Alice.

Episode

23

-

Death Of Deception

Episode

22

-

Monster Among Us

Cherished by all, Ida and Jana Randolph were a mother and daughter duo dedicated to lending a helping hand. But when they are found brutally murdered inside their apartment, police must dig into their personal lives to figure out who could have betrayed these beloved members of their tight knit Bronx community.

Episode

21

-

Deadly Ambition

Arrijana Hill,16, is stabbed to death in her home in a gated community; as police dig deeper, they uncover a tangled web of teenage drama and deadly ambition.

Episode

20

-

Devastating Disappearance

Ericka Bradley was a young mother with an infant son and a bright future ahead of her. When Ericka suddenly disappears without a trace, police have to piece together what happened. As they do, they uncover lies, betrayals, and a shocking end for the hometown girl that everyone loved.

Episode

19

-

Lured By Love

When a Ka'Loni Flynn ends up dead on a rural road, investigators wonder if she's the victim of a car jacking gone wrong, or something far more sinister. But whoever committed this horrific crime left no evidence behind, making it look like the perfect crime.

Episode

18

-

When Death Comes Knocking

For lovers Michael Days and Pamela Lawson, the future was full of promise…that is, until Michael is murdered right in front of Pamela in their own home. As police work to track down Michael's killer, they stumble upon a world of deadly secrets and betrayals.

Episode

17

-

Up In Flames

A beautiful young woman is found dead amidst ashes in her Sacramento, CA apartment. A quest for the truth opens up a Pandora's box of secrets and multiple motives for murder. But to solve the case, investigators must expose a love based entirely on lies.

When Asia Harris is brutally gunned down in her vehicle one night, family and friends are left rattled--what had happened on that dark, secluded road? But as police race to find Asia's killer, they discover that the young mother had some secrets of her own.

Episode

15

-

The Secrets We Keep

When wife and grandmother Marilyn Brinson disappears in Kansas City, MO, a family is thrown into turmoil. A horrifying discovery leaves investigators fearing the worst, but conflicting stories lead them to worry this case will never be solved.

Episode

14

-

Shot To The Heart

High school sweethearts see their fairytale life unravel.

Episode

13

-

In Cold Blood

After two kidney transplants, Jonathan Harris had a new lease on life. Now living on his own with a beautiful girlfriend, Jonathan thought he had it all. So why was this man with no enemies murdered? To solve the mystery, police uncover a sinister plot with a tangled web of lies and a cast of cold-hearted criminals.

A 15-year-old girl vanishes from her home one night and the community is thrust into a manhunt to find her and whoever is responsible for her disappearance.

Episode

11

-

Horror At The Holidays

When Jerryell Foster doesn't show up for Thanksgiving dinner, her close-knit family wonders how she could disappear without a trace.

Episode

10

-

An Unlikely Witness

The quiet domestic life of longtime couple Tiffany Bailey and Deunta Grier is shattered after Tiffany suffers a devastating gunshot to the head. As police dig into the investigation, they must decide whether Tiffany was an unfortunate casualty in a deadly game or the intended target.

A welfare check leads to a homicide case in Lake City, Florida.

Episode

8

-

Grave Secrets

A close-knit family panics after a woman fails to show to work one day.

Episode

7

-

Seductive Set-Up

Mylon Lowe, a 24-year-old, is found dead in his apartment; clues point in a multitude of disturbing directions.

Episode

6

-

Devils Amongst Us

Episode

5

-

Deadly Obsession

A woman is gunned down while sitting in a car with her boyfriend and police question if there's more to their romance than meets the eye.

Episode

4

-

Twisted Affair

After 23-year-old Trudie Hall vanishes, scandals simmer to the surface, leading to multiple theories about what really happened to her.

Episode

3

-

Campus Crisis

Ardena Carter's life resembles a fairy tale, but when she vanishes, the community must band together and find her before they lose her forever.

When a couple disappears from their hotel room, detectives find hidden deceit and malevolence that will end in a tragic investigation.

Episode

1

-

The Eye Of The Storm

In the Season 7 premiere, a pastor is gunned down and detectives unearth bloody secrets that go back two decades.