Watch Hollywood Divas
The reality series "Hollywood Divas" brings together five familiar black actress and gives a look at their relationships and efforts to maintain their careers as well as progress to greater success. The Divas' are Paula Jai Parker, who is bringing the ladies together in an attempt to regain her former status; Elise Neal, already involved in auditions for new members for her dance troupe; Golden Brooks was happy that the opportunity came along finding few roles for black actresses; Countess Vaughn, a happy homemaker with two children; and Lisa Wu, who wanted a new avenue after participating in the "Real Housewives of Atlanta."
Wednesday 10:00 PM et/pt on TV one

3 Seasons,

28

Episodes

October 8, 2014

/

10

Cast:

Lisa Wu, Countess Vaughn, Golden Brooks, Elise Neal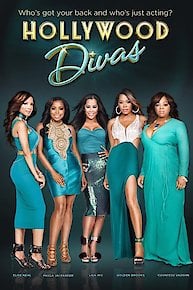 Hollywood Divas Full Episode Guide
Season
3
39 clips available
Episode

8

-

The Reunion Part Two

Episode

7

-

The Reunion Part One

Episode

5

-

Star Tour & Star Wars

Lisa is a very busy lady directing a music video; side-friends get involved, causing things to go left.

Episode

4

-

Bikinis and Backstabbing

Episode

3

-

No Laughing Matter

Episode

2

-

Liar, Liar, Pimps on Fire

Episode

1

-

Out With the Old, In With the New
Episode

10

-

Reunion Special Pt 2

The cast reunites to discuss the season.

Episode

9

-

Reunion Special Pt 1

Episode

8

-

The End of an Era

Forrest and Paula recommit to their marriage, and Lisa throws them a surprise reception. But the celebration becomes intense when the ladies don't get along, and it puts a shadow over their future relationships and projects.

Episode

7

-

The Sista Is Back!

Elise returns from her out-of-town play; the ladies meet to finalize plans for the White Sistas project; the friendship between Elise and Golden takes a serious hit; Forrest seeks to ask Paula an important question.

Episode

6

-

Heartbreak Hotel

Lisa hosts a brunch to celebrate her mom who has cancer; Paula revisits her homeless past; Countess starts working on her vocals again; Golden works with her pillow line.

Episode

5

-

Damage Control

Paula defends Forrest to the ladies at Lisa's housewarming party, but things turn ugly when she and Rashaun argue. Meanwhile, Golden starts seeing a new guy. Later, Paula, Forrest and Paula's mother go to family therapy with their pastor.

Episode

4

-

A `Forrest' Full of Shade

Paula pushes Forrest to get more involved in a group project; Countess gets an offer to sing on a documentary soundtrack; Golden and Elise try to find common ground after their fallout in Jamaica.

Episode

3

-

Do The "Right" Thing

Elise joins the ladies on the cruise and has to defend herself from accusations of side deals. Paula feels a fracture in her friendship with...

Episode

2

-

Rocking The Boat

Episode

1

-

Side Eye and Side Deals

Countess decides to celebrate her new post "surge" body by throwing a "Selfie" party. But the celebration gets pushed to the wayside.
If You Like Hollywood Divas, Then Try...