Celebrity Crime Files
Celebrity Crime Files documents past cases of celebrities in trouble. Some crime files episodes will go back as far as the early 1900s to some of the most recent in the 2000 era. Watch interviews with close friends, family members, and even police officers involved in the actual story, bringing together the entire plot of storyline. Videos, music, writing, and other factual events are brought together to help draw you into each case.
From the days of Bumpy Johnson in the mid-1900s, to the murders of Tupac Shakur and Notorious B.I.G., and more, Celebrity Crime Files will document and follow each case from beginning to end, helping you to see several view points of each crime. Whenever possible, the actual celebrity involved in the crime will be interviewed and tell the full story, from their point of view, which adds to the allure of the show.
Monday 10:00 PM et/pt on TV One

3 Seasons,

27

Episodes

October 15, 2012

/

10

Cast:

Reginald L. Wilson, Arthur Richardson, Ice-T, Freddie Edo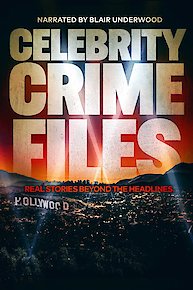 Celebrity Crime Files Full Episode Guide
The story of professional boxers who have been imprisoned to learn a lesson.

Episode

4

-

Touchdown to Lockdown

Drug-abusing ex-NFL players Sam Hurd and Darryl Henley are profiled in this expose of each man's tragic journey from football pro to cocaine dealer.

Episode

3

-

Elected to Lead

Corrupt politicians are profiled, including former congressperson Jesse Jackson, Jr., ex-New Orleans mayor Ray Nagin, and imprisoned Louisiana ex-representative William Jefferson.

Episode

2

-

Lady Gangster

To this day, St. Clair remains a fascinating and mysterious female gangster. Her is her story.
Episode

12

-

Michael Jackson

Michael Jackson's life and career.

Episode

11

-

Kwame Kilpatrick

The crimes of former Detroit mayor Kwame Kilpatrick.

Episode

10

-

Michael Winans

The crimes of singer Michael Winans Jr. are examined.

Episode

9

-

Notorious B.I.G.

Episode

8

-

Lyman Bostock

Investigating the murder of baseball player Lyman Bostock.

Episode

7

-

Magnolia Shorty

Investigating the murder of the Queen of New Orleans bounce, Magnolia Shorty.

Episode

6

-

Lorenzen Wright

Investigating the murder of former NBA player Lorenzen Wright.

Profiling the life and death of rapper Mac Dre.

Episode

4

-

Rubin `Hurricane' Carter

Profiling former boxer Rubin Carter, who was wrongly imprisoned for murder.

Episode

3

-

Scott La Rock

The death of rap musician Scott "La Rock" Sterling.

Episode

2

-

John Whitehead

The death of musician John Whitehead is investigated.

Episode

1

-

Bumpy Johnson

In the second season premiere, Harlem mobster Ellsworth "Bumpy" Johnson is profiled.
If You Like Celebrity Crime Files, Then Try...