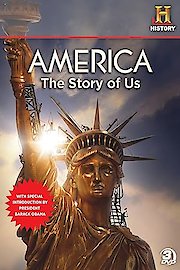 Watch America The Story of Us
2010
1 Season
America The Story of Us is a six-part documentary series that tells the story of the United States of America from some of the earliest human settlements to the present day. The series premiered in 2010 on the History Channel and features interviews with notable figures from politics, entertainment, and science.
Narrated by Liev Schreiber, each episode of America The Story of Us focuses on a different era in American history, such as the American Revolution, the Civil War, and the Space Age. The series also explores topics like the Industrial Revolution, the growth of cities, and the invention of the Internet.
The series features interviews with a diverse range of people, including Michael Douglas, John Lasseter, Donald Trump, Buzz Aldrin, Meryl Streep, Bill Maher, Sheryl Crow, Margaret Cho, John Legend, Michael Bloomberg, Caitlyn Jenner, Jimmy Wales, and Tony Bennett. These guests provide insight into their own experiences and what they believe makes America such a unique and special country.
Throughout the series, viewers are taken on a journey through time to witness how America has transformed from a small colony to a global superpower. The series also highlights some of the key moments and individuals that shaped the country's history, like George Washington, Abraham Lincoln, and Martin Luther King Jr.
The production value of America The Story of Us is outstanding, with stunning visuals and sound effects that transport viewers back in time. The series also incorporates state-of-the-art special effects to help bring to life pivotal moments in American history.
One of the highlights of the series is its exploration of the many cultures and subcultures that make up America. From the Native American tribes that called the land home long before the arrival of Europeans to the current-day melting pot of cultures, America The Story of Us highlights the rich diversity of the country.
Another important theme running throughout the series is the idea of American exceptionalism. This is the belief that America is a unique and special country, with a destiny and purpose that sets it apart from others. Many of the guests in the series speak to this idea, discussing the various ways that America has influenced global culture and politics.
Overall, America The Story of Us is an epic journey through time that leaves viewers with a deeper appreciation for the history and culture of the United States. The series is a masterful combination of storytelling, visuals, and special effects that make it one of the best historical documentaries ever made. If you're interested in American history or just love a good story, America The Story of Us is a must-watch.
America The Story of Us is a series that is currently running and has 1 seasons (13 episodes). The series first aired on April 25, 2010.