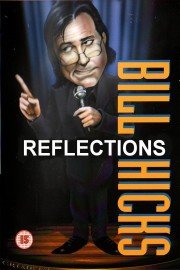 Watch Bill Hicks: Reflections
Bill Hicks: Reflections from Comedy Dynamics is a posthumous documentary released in 2015 that explores the life, career, and legacy of American comedian Bill Hicks. Directed and produced by Matt Harlock and Paul Thomas, the documentary presents a heartfelt tribute to one of the most influential and controversial stand-up comedians of all time.
Through a mix of archival footage, interviews, and animation, the film offers a vivid portrait of Hicks, tracing his journey from a young comic in Texas to an iconoclastic performer who challenged social norms and political correctness. The documentary features interviews with Hicks' friends, family, and colleagues, including his parents, his brother Steve, his former girlfriend Lynn Hicks, and fellow comedians like Dwight Slade, Kevin Booth, and Bill's close friend David Johndrow, who served as his sound engineer for several years.
The film also includes never-before-seen footage of Hicks' early stand-up gigs, showcasing his early promise as a comic and his gradual evolution into a fierce satirist whose biting social commentary and incisive wit earned him a devoted following around the world. The documentary delves into Hicks' recurring themes such as politics, religion, consumerism, censorship, and drugs, which he used to challenge the status quo and question the values of his time.
The highlight of Bill Hicks: Reflections from Comedy Dynamics is undoubtedly the excerpts from Hicks' stand-up performances, which are interspersed throughout the film. Whether he is riffing on the Gulf War, mocking televangelists, ridiculing the media's sensationalism, or taking on the concept of human decency, Hicks' performances are a tour-de-force of comedic genius that showcases his ability to combine humor and social commentary in a way that was both entertaining and thought-provoking.
One of the most memorable sequences in the documentary is a clip from Hicks' appearance on the TV show Late Night with David Letterman. In the segment, Hicks delivers a scathing monologue about the hypocrisy of the media and the entertainment industry before being abruptly cut off by Letterman, who claims that they had run out of time. The incident, which Hicks referred to as a "censorship" on national television, became legendary and cemented Hicks' reputation as a fearless champion of free speech.
The documentary also addresses some of the controversies surrounding Hicks' life and career, such as his battles with alcoholism and drug addiction, his strained relationship with his family, and his untimely death at the age of 32 from pancreatic cancer. While the film does not shy away from these darker moments, it also celebrates Hicks' humanity, his compassion, and his unwavering commitment to his craft.
Overall, Bill Hicks: Reflections from Comedy Dynamics is a fitting tribute to a comedian who was ahead of his time. Mixing humor and pathos in equal measure, the documentary captures Hicks' singular voice and vision and showcases his enduring relevance and inspiration to new generations of comedians. Whether you are a fan of stand-up comedy or simply interested in exploring the life of a remarkable artist, this documentary is a must-watch.