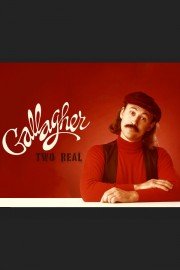 Watch Gallagher: Two Real
Not Rated
1981
1 Season
Gallagher: Two Real from Comedy Dynamics is a classic comedy special that first aired in 1981. Featuring the iconic comedian Gallagher, the show is filled with hilarious jokes, clever puns, and the unique prop comedy that has made him famous. Throughout the show, Gallagher delivers his signature humor, which is a combination of witty one-liners, observational comedy, and plenty of physical comedy. He also incorporates a wide range of props into his performances, including sledgehammers, watermelons, and even a toilet seat.
One of the standout aspects of Gallagher: Two Real is the way that he plays with the audience. He regularly interacts with the crowd, sometimes pulling people up on stage with him or making jokes at their expense. His ability to improvise and work off of the energy of the audience is truly impressive.
Another highlight of the show is the way Gallagher tackles a variety of topics with his humor. From politics and current events to everyday life and relationships, he covers a wide range of subjects, always finding ways to make them funny or absurd. Whether he's discussing the absurdity of the postal system or the futility of diets, Gallagher's humor is always sharp and entertaining.
The show also includes a number of memorable moments, such as Gallagher smashing watermelons with a giant mallet and spraying the front row with their juice. These physical gags are a staple of his act, and they never fail to elicit laughs and cheers from the audience.
In addition to his humor, Gallagher is also known for his stage presence. He's a dynamic performer who exudes energy and charisma, and he commands the stage with ease. Whether he's running around, dancing, or simply telling jokes, he's always engaging and entertaining.
Overall, Gallagher: Two Real is a classic comedy special that showcases the best of Gallagher's unique brand of humor. With his clever wordplay, hilarious prop comedy, and engaging stage presence, he delivers a show that is sure to keep audiences laughing from start to finish. If you're looking for a bit of classic comedy to brighten your day, this is definitely a show worth watching.