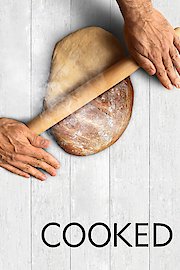 Watch Cooked
2016
1 Season
Cooked is a four-part Netflix docu-series hosted by award-winning author and journalist Michael Pollan that premiered in February 2016. Based on his book of the same name, Cooked takes a deep dive into the cultural, social, and emotional significance of cooking and how it shapes our relationship with food.
Pollan is an authoritative voice on food and agricultural policy and has written numerous books on the subject, including The Omnivore's Dilemma and In Defense of Food. His approach to food and wellness focuses on the importance of cooking with fresh, whole ingredients, and understanding the role that food plays in our lives beyond just nourishment. In Cooked, he delves deeper into these concepts, exploring the history, science, and art of cooking, and how it connects us to our past, present, and future.
Each episode of Cooked explores a different element of cooking and the role it plays in different cultures around the world, starting with the most basic building block of cooking – fire. In the first episode, titled "Fire," Pollan examines the history of cooking with fire, from the invention of fire to the present day. He meets with barbecue pitmasters in North Carolina, Maasai tribes in Tanzania, and chefs in modern kitchens, and investigates the science behind the transformation of raw food into cooked food.
The second episode, "Water," takes an in-depth look at the history of boiling, steaming, and braising. Pollan looks at how cooking with water has evolved over time and how it has become a fundamental technique in cuisines around the world. His examination includes visits to a noodle shop in Osaka, Japan, and a family kitchen in Hyderabad, India.
The third episode, "Air," focuses on the art of baking and how the process of fermentation has created some of the most beloved foods in the world, such as bread and cheese. Pollan travels to Chad Robertson's Tartine Bakery in San Francisco, and to a remote village in Morocco, where traditional bread is still baked in a communal oven. He also explores the microbial world of sourdough and indicates how it provides unique flavors.
The final episode, "Earth," grapples with the theme of fermentation and how we have harnessed the power of bacteria to create some of the tastiest and most nutritious foods in the world. Pollan visits a kimchi-making expert in Korea, a cheese maker in Switzerland, and a small-scale beer brewer in England, discovering along the way how these foods are more than just nutrition.
Cooked is a visually stunning show, with gorgeous cinematography and stunning landscapes from around the world. But it's not just visually enticing. The series is also incredibly informative, offering up a wealth of knowledge on ingredients, techniques, and cultural history. Pollan is an energetic and engaging host, effortlessly weaving together storytelling, science, and cultural context to create a feast for the eyes and brain alike.
The show is not just for cooking enthusiasts; it also appeals to anyone who is interested in food, culture, history, science, and anthropology. It provides a fresh take on cooking, reminding us that it's not just a functional chore, but a vital and essential part of our lives.
In conclusion, Cooked with Michael Pollan is an excellent show that takes a comprehensive approach to cooking, covering everything from the science of cooking to the cultural and historical significance of food. Through beautiful visuals and exciting storytelling, the show manages to make cooking not only entertaining but also deeply engaging. Pollan presents the show like a journalist, with the purpose of creating a conversation that pushes people to question their everyday eating habits. Cooked is much more than a cooking show; it is a journey of self-discovery that encourages people to question the way they look at cooking and understand their relationship with food.
Cooked is a series that is currently running and has 1 seasons (4 episodes). The series first aired on February 19, 2016.