Jonas Brothers: Living the Dream
Jonas Brothers: Living the Dream is a reality television series. It follows the Jonas Brothers on tour. The Jonas family went on the When You Look Me In The Eye tour in this series. It follows these entertainers through their lives while on tour. It is an in-depth look at the lives and misadventures of daily life while traveling in the entertainment world. No day is completely perfect but being on tour adds a whole new level of difficulty.
This is a reality series which shows the life of one family of entertainers. These entertainers are on tour and the series focuses on that lifestyle.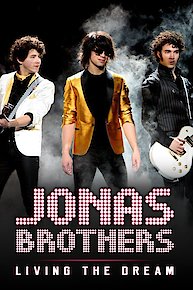 Jonas Brothers: Living the Dream Full Episode Guide
Episode

16

-

Jonas Brothers: Living the Dream

At the end of the season, the brothers end their "When You Look Me in the Eyes" tour. Their tour ends up in their hometown of Wyckoff, New Jersey. In "Dream On" they finish showing us how they're 'Living the Dream'.

Episode

14

-

We're the Boss

Kevin, Joe and Nick are fully engaged in their careers and are seen as they write songs, perform, and make decisions associated with their tour and update their fan website.

Episode

13

-

Rock Star in Training

We are introduced to the youngest Jonas, Frankie, who is a future rockstar in the making. Viewers get to see how he hangs out and gets along with his older brothers.

Episode

12

-

Nothing's Gonna Slow Me Down

Its already hard enough to be on tour, but Nick Jonas is on tour with diabetes. A disease where your body doesn't produce enough insulin. Nick shares with the fans how he manages his diabetes everyday and how he isn't going to let it get the best of him.

Episode

11

-

Musical Scrapbook

Ever wondered how the Jonas Brother's write their songs? Well take inside their musical scrapbook as the boys show you how they write their very own songs.

Episode

10

-

School Rocks

Nick keeps up with his high school classes and goes on a field trip in between being a rock star.

Episode

9

-

We Are Family

You've heard the phrase "Three's a Crowd", well imagine being on a bus with Joe, Nick, Kevin, plus their parents, Kevin Sr. and Denise, and their little brother Frankie. In this episode, you see how the brothers and their family live together in a tour bus, on the road, and still have a close tight-knit family.

The brothers show how they keep themselves in shape by eating the right foods and working out.

Episode

7

-

Hello Hollywood

Kevin, Joe and Nick Jonas play a concert in Hollywood, one attended by their friends, and hang out at a post-concert party.

Episode

6

-

Our Mom and Dad

It might be pretty hectic being rock stars on tour, but imagine being the parents! Kevin Sr. and Denise show how they keep their sons on the right track, no matter how big of rock stars they may be!

The brothers have shown how they spend their "Down Time" while on tour and now Joe is spending his taking a drivers education class.

Episode

4

-

Our Fans Rock

The brothers meet up with fans and they decide to give them a "surprise concert" in Arizona.

Joe, Nick, and Kevin may be on tour and huge rock stars, but they are still regular teenagers. They show us how they like to spend their down time and how they hang out. In this episode, they, along with their little brother Frankie, go sky diving.

The brothers prepare for their new concert stage in Arizona.

Nick and his brothers are ready to go on their sold-out When You Look Me In The Eyes tour. But before every great tour, there are many things to do to be prepared for each and every show. The brothers take you behind-the-scenes as they get prepared. You can watch as they check off each thing on their to-do list.
If You Like Jonas Brothers: Living the Dream, Then Try...
Jonas Brothers: Living the Dream News