Littlest Pet Shop: The Big Secret
When Blythe learns that she can speak to animals she is stunned and afraid to tell anyone about it. Due to her fear of what others might think of her Blythe keeps her biggest secret with no one but the animals to talk to about it. In Littlest Pet Shop: The Big Secret, Blythe writes a song telling everyone about her secret.
1 Season,

5

Episodes

December 22, 2012

/

10

Cast:

Ashleigh Ball, Sam Vincent, Peter New, Kyle Rideout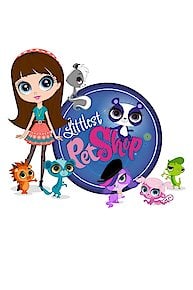 Littlest Pet Shop: The Big Secret Full Episode Guide
Episode

5

-

Bakers and Fakers

As Blythe and friends prepare for a cake-baking competition, the pets and their neighbor Buttercream team to keep the Biskits' from cheating their way to victory.

Episode

4

-

Helicopter Dad

Roger surprises Blythe at school so they can spend the whole day together. Meanwhile, Minka tries to be best friends with an antisocial tortoise.

Episode

3

-

Sweet (Truck) Ride

Blythe jumps into Aunt Christie's new catering truck to bring it to a stop after the pets accidentally slip it into gear, sending it careening down the street, but everyone, from a police officer to Blythe's dad assumes she was taking the truck for a joy ride because Blythe can't and won't reveal how she knows it was really the pets who were responsible.

Episode

2

-

Dumb Dumbwaiter

While hurrying to meet her friends, Blythe overloads the dumbwaiter and finds herself stuck in it along with Zoe, Pepper and Minka, leaving it up to Penny Ling and the boys to get them out before they drive each other crazy.

Episode

1

-

Blythe's Crush

Blythe tries to find a boy who dropped his keys in the park with some help from Sunil's "psychic abilities" which Sunil himself has so little faith in, he assumes Blythe is lost in the city and enlists the other pets, along with a visiting parrot, to help find her.