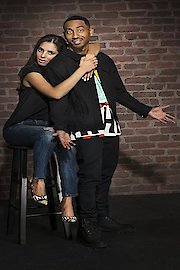 Watch Living with Funny
Living with Funny is a comedic reality TV show that premiered on Oxygen in 2016. The show revolves around the lives of six up-and-coming comedians who live together in a Hollywood Hills mansion. The six comedians are Brandon T. Jackson, Erik Rivera, Michael Blackson, Adam Hunter, Jade Catta-Preta, and Donna Glytch.
Each episode of Living with Funny provides a glimpse into the personal and professional lives of these six comedians. Viewers get to see them interact with each other, perform stand-up comedy, attend auditions, and navigate the entertainment industry.
Brandon T. Jackson is a well-known comedian and actor who has appeared in movies such as Tropic Thunder and Percy Jackson & the Olympians: The Lightning Thief. Erik Rivera is a rising star in the world of stand-up comedy who has been featured on The Tonight Show Starring Jimmy Fallon and other late-night talk shows.
Michael Blackson, known as "The African King of Comedy," is a Ghanaian-American comedian who has made appearances in movies and TV shows such as Next Friday and BET's ComicView. Adam Hunter is a comedian and writer who has appeared on Last Comic Standing and Comedy Central's Roast Battle.
Jade Catta-Preta is a Brazilian-American comedian and actress who has appeared on MTV's Girl Code and Comedy Central's @midnight. Donna Glytch is a comedian and actress who has appeared on The Tonight Show Starring Jimmy Fallon and performed at the world-famous Apollo Theater.
The show explores the challenges and joys of pursuing a career in the entertainment industry. The comedians support each other through trying times and celebrate each other's successes. They also provide honest feedback on each other's performances and offer words of encouragement when auditions don't go as planned.
Living with Funny highlights the personal lives of the comedians, showcasing their relationships with their significant others, family, and friends. Viewers get to see the fun and often chaotic dynamic that arises when six drastically different personalities live under the same roof.
The show also features appearances from celebrity guests such as Kevin Hart, George Lopez, and Kym Whitley, who offer their thoughts and advice on the industry.
Overall, Living with Funny is a hilarious and heartwarming look at the lives of six comedians who are striving for success in Hollywood. It provides an entertaining and insightful look at the ups and downs of pursuing a career in the entertainment industry, while also showcasing the importance of friendship and support.
Living with Funny is a series that is currently running and has 1 seasons (7 episodes). The series first aired on April 12, 2016.