Watch The Chef's Kitchen
The Chef's Kitchen is a TV show that is hosted by Julia Child and Jacques Pepin, a renowned chef that loved to share their passion in the kitchen to beginners to inspire them to make world-class dishes in less time possible. This show is like a cooking class that teach beginner to become a professional cook at home without to spending time in a classroom.
The show will had a special guest to species thing up when they present their signature dishes. These is same dishes that is serve in restaurants and how you had the opportunity to make that same dishes to serve your family at home. The show will broadcast new creative idea to make your cooking experiences exciting and willing to learn more on how to master the kitchen.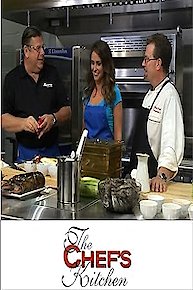 The Chef's Kitchen

Full Episode Guide
Episode

388

-

Moussaka Kashkaval Feta

Chef Michael Solomonov of Zahov restaurant in Philadelphia makes a traditional Middle Eastern meal using eggplant, lentils, and cheese.

Episode

387

-

Grilled Hanger Steak

Tony Clark shows us how to use a unique cut of beef: the hanger steak. He also makes Dirty Rice Risotto in a poached garlic sauce with glazed asparagus and fried leeks.

Episode

376

-

Vegetarian Bouillabaisse With Fried T...

Tony Clark makes a healthy and delicious meal using fresh seafood and tofu. Dr Dwithya Thomas joins Tony and Maria to talk about women's heart health.
Episode

379

-

Sauted Seafood Platter Creole Style

Chef John Mims of Carmine's Act Two and Treme, makes two dishes from his native city of New Orleans. First John makes Sautéed Seafood Platter Creole Style and then he follows up with New Orleans Beignets. John alos mixes up a Swamp Water Martini.

Episode

377

-

Tuna Tartare With Mushroom Salad and ...

Chef Patrick Feury of Nectar in Berwyn makes Tuna Tartare with Matsutake Mushroom Salad. Patrick teaches his technique for making Shrimp Siumai, an open faced dumpling. He uses Roasted Matsutake, Avocado, Natural Pickle Matsutake & Sushi Rice.

Foulkeways at Gwynedd Executive Chef Ryan Pomeroy uses superfood ingredients to make Wild Mushroom and Roasted Farro Risotto with pan seared Duck Breast.

Episode

374

-

Hearth Desserts

Foulkeways at Gwynedd Executive Chef Ryan Pomeroy creates hearth desserts with fresh fruit, homemade ice cream and flatbread. Chef uses the wood-burning brick oven to make the flatbread and roast the pears.

Episode

373

-

Fish Market

Foulkeways at Gwynedd Executive Chef Ryan Pomeroy makes cashew crusted local Blue Catfish and pan seared Halibut with a red quinoa cake.

Episode

370

-

Mussel Chicken Quinoa and Pork Roula...

Chef Walter Staib, of City Tavern in Philadelphia, makes a Superfoods dish using fresh mussels and quinoa in three colors. Later, Ray Rastelli joins Chris Mentzer and Chef Ian Whitfield to make a stuffed pork entree.

Episode

369

-

Steak On Steak and Roast Works Coffee

Chef Tony Clark cooks a New York Strip Steak and a Cowgirl steak at Rastelli Market Fresh. Later, Ray Rastelli and Master Roaster John Knightly show us how they roast fresh coffee daily at the market,

Episode

364

-

Arctic Char

Hotel Bethlehem's Executive Chef Michael Adam makes Arctic Char with tomato onion confit, sorrel crème fraiche, and braised kale.

Episode

363

-

Seared Sea Scallops With Rhubarb Most...

Hotel Bethlehem's Executive Chef Michael Adam makes fresh sea scallops and tops them with mostarda made with rhubarb.

Episode

362

-

Beef Carpaccio and Beausoleil Oysters

Chef Michael Adams makes Beef Carpaccio with Beausoleil Oysters

Chef Dave Banks, Executive Chef of Harry's Hospitality Group, makes three dishes featured on the raw bar menu: Hawaiian Naragi Sashimi, Local Diver Sea Scallop Ceviche, and Hamachi Crudo. Kelly O'Hanlon makes a cocktail that pairs with the dishes.

Episode

354

-

Seafood Spiedino

Chef Joe Grisafi, from Corked Wine Bar and Steak House makes shrimp and scallop spiedino and a whole Branzino in a lemon-Butter caper sauce

Episode

353

-

Asian Inspired Dishes

Chef Joe Grisafi, from Corked Wine Bar and Steak House, uses Asian ingredients with fresh tuna and salmon

Episode

348

-

Lamb Tenderloins Wrapped in Phyllo

Chef Robert Wiedmaier, of Marcel's in Washington DC, uses phyllo pastry to wrap lamb tenderloins and serves it with baby carrots.

Episode

347

-

Metropolitan Bakery Sweets

Pastry Chef James Barrett, from the Metropolitan Bakery in Philadelphia, shows us how to make two of his favorite French sweet creations: Chocolate Mousse and Brown Butter Madeleines.

Episode

346

-

Israeli Beef Specialties

Chef Michael Solomonov makes Slow-Roasted Short Ribs, Spiced Beef Grape Leaves, and Tehina Sauce.

Episode

344

-

Sugo Di Carne Toscano

Chef Michael Joyce from Molinari's Mangia in Bethlehem PA, makes a dish he learned while visiting Italy: Sugo di Carne Toscano

Episode

343

-

Ocean's Lobster Thermidor

Chef Pierre Gignac, from Ocean at The Cape Arundel Inn in Kennebunkport Maine, puts a modern twist on a classic lobster recipe.

Episode

342

-

Tour De Corked

Chef Joe Grisafi from Corked Wine Bar and Steak House makes a giant 24 oz tomahawk ribeye steak. He also prepares side dishes of beet salad and lobster mac and cheese.

Episode

341

-

Classic Roast Turkey

Chef Tony Clark makes a classic family dinner: whole roast turkey. He also makes a smoked turkey salad with fresh ingredients.

Episode

340

-

Bolete's Mushroom Soup

Chef Lee Chizmar makes mushroom soup with a salad of mixed greens.

Episode

339

-

Stella Homemade Gnocchi

Chef Evan Deluty makes gnocchi with beet salad as served in Stella, his award-winning restaurant in Boston

Episode

338

-

Monkfish and Crab Soup

Chef Tony Clark makes his favorite sea shore dishes: Monkfish and Crab Soup

Episode

335

-

Chop House Charcutiere

Chef Stacy Calles from Emeril's Chop House at Sands Casino Resort Bethlehem makes two kinds of sausage: Andouille and Boudin Noir.

Episode

333

-

Tasting of Duck

Chef Victor Bock of Sands Casino Resort Bethlehem prepares a tasting of duck. He uses local ingredients and pairs the dishes with local craft beers.

Episode

332

-

Launch Party

Watch as five chefs from The Chef's Kitchen show off their skills in front of a live audience. This epiosode celebrates the launch of our new TV studio at PBS39 on the Steel Stacks campus in Bethlehem, PA.
If You Like The Chef's Kitchen, Then Try...