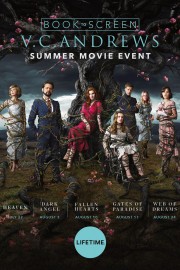 Watch V.C. Andrews' Casteel Family
V.C. Andrews' Casteel Family is a drama television series based on the bestselling books written by V.C. Andrews. The series is produced by Lifetime and premiered on August 10, 2019. Set in the 19th century, the show follows the life of a young girl named Heaven who grows up in poverty and must navigate through the trials and tribulations of her dysfunctional family.
The story begins in the mountains of West Virginia, where Heaven's family lives in abject poverty. Heaven, who is the eldest of five siblings, dreams of a life beyond the confines of her small town. However, her cruel father, Luke Casteel, sees her as nothing but a burden and threatens her dreams of a better life.
As the series progresses, we see the bond between Heaven and her siblings grow stronger despite the harsh realities of their upbringing. With the help of her half-sister Fanny, Heaven escapes her father's abuse and moves to Boston to start a new life. However, she soon realizes that the life she has always wanted is not as perfect as it seems.
Heaven's journey is filled with all kinds of obstacles and challenges, from heartbreak to betrayal to family secrets. With every challenge she faces, she grows stronger and more resilient, determined to make a new life for herself and her siblings.
V.C. Andrews' Casteel Family is a gripping drama that explores the themes of love, family, and survival in the face of adversity. The show is beautifully shot, with stunning cinematography that captures the beauty and harshness of the West Virginia mountains. The music is also a standout feature, with a hauntingly beautiful score that perfectly complements the show's tone and atmosphere.
The cast is also exceptional, with standout performances from Annalise Basso as the determined and resilient Heaven, Julie Benz as her cruel stepmother, and Chris William Martin as her charming but dangerous love interest Logan Stonewall. The supporting cast is also excellent, with memorable performances from Kelly Rutherford, Jason Priestley, Daphne Zuniga, and many others.
One of the strongest aspects of the show is its ability to tackle difficult and often taboo subjects with sensitivity and nuance. From domestic abuse to child abuse to sexual assault, the show never shies away from the darker aspects of its story. However, it also balances these heavy themes with moments of hope and resilience, reminding the audience that even in the darkest of times, there is always a glimmer of light.
Overall, V.C. Andrews' Casteel Family is a riveting drama that delivers compelling characters, breathtaking scenery, and powerful storytelling. Brimming with heartache and hope, it is a must-watch for anyone who loves a good family drama.