Watch Aliens in America
The American Television situational comedy Aliens in America is all about a young Pakistani Muslim student Raja Musharraf who as part of his student foreign exchange program, was sent to live in Wisconsin with an American christian family. The family of four who had accepted to accommodate a student for the exchange program were expecting a European student but were surprised and disappointed to have a Muslim teenage boy instead. The main character of the family Justin Tolchuck was a young teenage boy who was living with his parents Gary and Franny Tolchuck and his kid sister Claire Tolchuck who was well known due to her great popularity.
Justin had everything he ever needed but was not a popular kid and always got bullied by friends and school mates. This was what prompted his mother, Franny to accept and host an international student who she hoped would be of great help in boosting and improving her sons' social skills.
The experiences were quite challenging for Raja Musharraf and the American boy Justin Tolchuck. The two however got along after some time and the level of friendship that developed between them in the long run was so amazing. This enabled them overcome the challenges of student life especially as high school students together.
Their experiences were centered around dating, deals at school and sometimes saw Raja giving up his opportunities to lead for Justin to tackle them so as to make him popular among their schoolmates.
The main characters of the show have featured in other well known successful television series. They include Dan Byrd who played the role of Justin Tolchuck, Adhir Kalyan who acted as Raja Musharraf.
The show was created by David Guarascio and Moses Port, and produced by David Guarascio, Moses Port and Tim Doyle. The sitcom which was directed by Luke Greenfield is aired on The CW.
The thirteen episode series was was co-produced by CBS and NBC.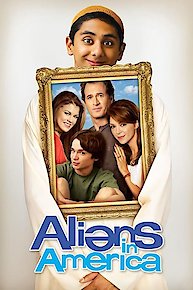 Aliens in America

Full Episode Guide
Episode

18

-

Raja at Sixteen

Frannie arranges a date for Raja and a Muslim girl and both families, when its revealed that he is interested in her. Justin goes out with a neurotic girl due to a feeling of pressure to date, and Claire goes out with a German exchange student.

Episode

17

-

Wake at the Lake

Raja creates a mock funeral for a classmate who was "killed" in an alcohol related accident, as a means to raise awareness for Students Against Drunk Driving. But the school's most popular student is jealous when Raja chooses Justin as his pretend victim.

Episode

16

-

Smutty Books

When Justin's class is assigned to read the book "Madame Bovery," his mother insists that all smutty books be banned from the schools. Also, Justin's parents learn of his new talent, drawing nude women.

Episode

15

-

The Muslim Card

Raja's new annoying friend Mindy feels ostracized by her classmates. Mindy thinks she and Raja are dating, and Raja doesn't know how to set her straight without hurting her feelings, so he tells he can't go out with her because of their different religions. When Mindy shows up in a burka, Raja knows he's in trouble.Meanwhile, after Gary and Franny learn some shocking news about their new neighbors.

Episode

14

-

One Hundred Thousand Miles

Episode

13

-

Community Theater

Episode

8

-

My Musky, Myself

Episode

4

-

The Metamorphosis

Episode

2

-

No Man Is An Island
If You Like Aliens in America, Then Try...