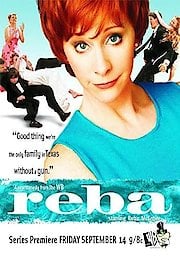 Watch Reba
TV-PG
2001
6 Seasons
Reba is an American sitcom that aired on The CW from 2001-2007. The show follows the life of Reba Hart, a single mother of three, who is dealing with the aftermath of her husband's affair and subsequent pregnancy with his dental hygienist, resulting in a divorce. Through the show, Reba navigates the ups and downs of co-parenting with her ex-husband and his new wife, dealing with her teenage daughter's rebellious behavior, and running her own business.
The show's main character, Reba Hart, is played by country music superstar Reba McEntire. Joanna Garcia plays Reba's oldest daughter, Cheyenne, who becomes pregnant at a young age and marries her boyfriend, Van, played by Steve Howey. Christopher Rich plays Reba's ex-husband and Van's father, Brock Hart, who is a dentist and now married to his hygienist, Barbra Jean, played by Melissa Peterman. Mitch Holleman and Scarlett Pomers play Reba's two younger children, Jake and Kyra.
The show tackles numerous topics that resonated with viewers, including divorce, co-parenting, remarriage, teenage pregnancy, and single parenthood. All of these issues are handled in a humorous and lighthearted manner, often resulting in heartwarming moments and lessons learned.
One of the show's strengths is its talented cast, with McEntire leading the way as the comedic yet grounded Reba. Garcia and Howey have great chemistry as Cheyenne and Van, and their relationship provides numerous storylines throughout the series. Rich and Peterman are hilarious as Brock and Barbra Jean, providing ample comic relief, and Holleman and Pomers hold their own as the younger siblings in the family.
The show's setting in Houston, Texas, also adds to its charm, as it provides a unique backdrop for the family's adventures. Additionally, the show's use of music, primarily country music (as one would expect with McEntire as the lead), adds another layer of authenticity and enjoyment for viewers.
Overall, Reba is a heartfelt and humorous depiction of the challenges of family life, blended families, and co-parenting. Its talented cast and relatable storylines make for an enjoyable viewing experience that audiences could easily relate to. While it may have ended in 2007, the show remains a beloved classic of the early 2000s.
In conclusion, Reba is a heartwarming and funny show about family, co-parenting, and single parenthood, with a talented cast, relatable storylines, and a unique setting that make it a beloved classic of the early 2000s.
Reba is a series that is currently running and has 6 seasons (125 episodes). The series first aired on October 5, 2001.