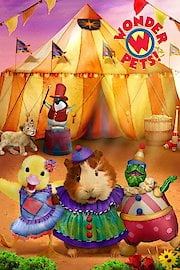 Watch Wonder Pets
TV-Y
2006
3 Seasons
Wonder Pets was an animated children's show from Nick Jr. that aired from 2006 to 2013. The show starred Teala Dunn as Tuck, Sofie Zamchick as Linny, Cooper Corrao as Ming-Ming, and Danica Lee as the voice of their animal friend, the phone operator. The show was known for its catchy theme song and its unique animation style, which combined cut-out photos of animals with brightly colored backgrounds.
The premise of Wonder Pets was simple: the three main characters were classroom pets who became superheroes when their teacher left for the day. Whenever an animal was in trouble, the Wonder Pets would spring into action, using teamwork, problem-solving skills, and catchy songs to save the day. The animals they helped ranged from household pets like cats and dogs to more exotic creatures like kangaroos and platypuses.
One of the most unique aspects of Wonder Pets was its use of musical theater. Each episode included several original songs, often sung by the animals themselves. The songs were catchy and fun, and they helped reinforce important messages about teamwork, empathy, and kindness. Many of the songs featured nods to classic musicals, like "The Lion Sleeps Tonight" and "The Sound of Music."
The show also had a star-studded cast of voice actors, including Steven Tyler, Idina Menzel, Nandita Das, and Jerry Stiller. Tyler and Menzel both sang on the show, while Stiller played the recurring character of Turtle Tuck's grandpa.
Overall, Wonder Pets was a beloved children's show that captured the hearts of young viewers with its colorful animation, catchy music, and messages of kindness and teamwork. The show was well-received by parents, who appreciated its educational value and positive messages.
If you're looking to relive the adventures of the Wonder Pets, the show is available to watch online. Simply search "Watch Wonder Pets Online" to find streaming options.
Wonder Pets is a series that is currently running and has 3 seasons (71 episodes). The series first aired on March 2, 2006.