Watch Big Break Academy
Series Length:
4 Seasons,

41

Episodes
Description:
The eliminated players of Big Break usually wish they could play the shot that sent them home over again, now the ladies of Big Break Atlantis are able to with the help of Michael Breed on a new instruction series called, Big Break Academy. The eliminated player and Breed will have an instructional session focusing on the key moments and shots, tips and instruction from tee to green will be given, which will help the player as well as viewers at home, who can apply the tips to their own golf game.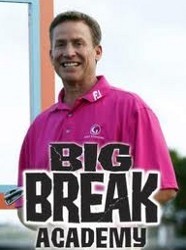 Big Break Academy

Full Episode Guide
Episode 10 - Rollin' the Rock

Episode 9 - Fix Your Crossing Re-Route

Episode 8 - Driving Range Two-A-Day

Mark Rypien gets tips on his iron game.

Episode 7 - Scrambling Trouble Shots

Improving fairway bunker shots, in-between wedge shots and trouble shots.

Episode 6 - Key Conversion - Pitching & Chipping

Episode 5 - Finesse Your Power Game

Episode 4 - Perfecting the Drop-Back

Episode 3 - San Fran Long Game Treat

Episode 2 - Split the Uprights

Episode 1 - Get Your Kicks
Episode 9 - Championship Edition

Episode 7 - Short Game Especial

Episode 6 - Drilling It Home

Episode 5 - Full Swing Especial

Episode 3 - Muy Bien Maya

Episode 2 - Michael and El Grupo

Episode 1 - Bienvenidos Means Welcome
Season 1
(1 clip available)
If You Like Big Break Academy, Then Try...