Watch La Isla
La Isla also known as La Isla: El Reality which follows three teams: the green team (the famous), the orange team (the celebrities) and a blue team (the unknown). The teams compete each week in various tests that will test a lot of their qualities to points they never imagined before in which each team will have to unite among its members to defeat the other team and the team that sees itself in last place has to vote one of their teammates off at the end of the day after becoming friends among themselves. There is also a territorial game to see which team gets to stay in what sleeping quarters, this are the Playa Alta which has all the needs and luxuries such as beds, potable water, food, bathrooms, etc. Playa Media which has hammocks to sleep and basic food and the Playa Baja where they don't have anything and have to look around the island to find their needs and such.
The reality television show was first aired in August as a Mexican version of the Colombian reality show el Desafio which was created by Caracol. This Mexican version was produced in combination by BE-t and Azteca. Each episode lasted forty-five minutes and only one season has come out with a total of 50 episodes. The teams start being six players each which will not only make new friends and colleagues but will also test their physical and mental abilities as well as their emotional ones.
This is a great sow for the entire family as it will have every member of it holding out for suspense as they cheer for their favorite team and players as they participate in the different games. The viewer will feel a lot of different emotions as they wonder how it would be if they were the ones doing the tests and wondering how they would solve them. The viewer will see how new friendships are born and later destroyed.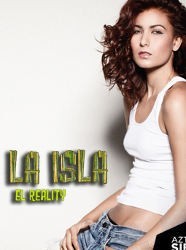 La Isla

Full Episode Guide
Episode 64 - La Gran Final

Hoy conoceremos al ganador de este gran Reality.

Episode 63 - Antes de la Gran Final

Los competidores hacen su último esfuerzo previo a la gran final.

Episode 62 - Por el Tercer Lugar Para la Final

En un cara a cara se sabrá quién es el último participante en abandonar la Isla antes de la gran final.

Episode 60 - Los Juicios Que Marcaron la Compete...

Los momentos inolvidables que quedarán para siempre en la memoria de La Isla.

Episode 59 - Los Mejores Momentos de La Isla

Episode 58 - El Primer Finalista de La Isla

Episode 56 - La Despedida de Un Guerrero Más

Episode 55 - En Busca de Ser el Segundo Finalista...

Episode 54 - Un Nuevo Día En La Isla

Episode 53 - El Juego Por el Premio

Episode 52 - Se Definen Los Cinco Finalistas

Episode 51 - La Batalla Sin Precedentes

Episode 50 - La Cercanía de la Final

Episode 49 - La Cercanía de la Final

Episode 48 - El último Juicio de La Isla

Episode 47 - La Determinación y la Voluntad

Episode 46 - Por el Privilegio de la Permanencia

Episode 45 - Ser Un Rival Fuerte es Una Desventaj...

Episode 44 - La Ilusión de Uno de los Finalistas...

Episode 43 - El Segundo Brazalete de Salvación

Episode 42 - El Equipo Fusión se Enfrenta

Episode 41 - Inicia la Fase Individual

Episode 40 - La Salida de Un Desconocido

Episode 39 - El último Brazalete de Salvación e...

Episode 38 - La última Batalla Por Equipos

Episode 37 - El último Juego Territorial

Episode 36 - El Juicio Será el Campo de Batalla

Episode 35 - Las Celebridades Luchan Entre Si

Episode 34 - Los Combatientes Van Por Los Brazale...

Episode 32 - Por el único Brazalete de Salvació...

Episode 31 - Los Desconocidos Se Enfrentan Entre ...

Episode 30 - Un Día de Análisis

Episode 29 - Lucha Por Las Llaves de Playa Alta

Episode 28 - La Ilusión De Uno De Los Hijos Del ...

Episode 26 - Un Partido Muy Reñido

Episode 25 - Por Las Llaves de Playa Alta

Episode 24 - Los Famosos Eligen Quién Se Va

Episode 22 - Por los Brazaletes de Salvación

Episode 21 - Triunfo de Los Desconocidos

Episode 20 - Una Elección Difícil

Episode 19 - El Juego Individual

Episode 18 - El Equipo de Los Famosos Deja de Exi...

Episode 17 - La Competencia Nocturna

Episode 16 - La Decisión de Los Famosos

Episode 15 - Famosos y Desconocidos Pelean en el ...

Episode 13 - La Dinámica Cambia

Episode 12 - El Nuevo Expulsado Del Equipo Verde

Episode 11 - La Crisis Del Equipo Verde

Episode 10 - La Salvación en el Agua

Episode 9 - Los Tres Equipos Por el Territorio

Episode 7 - Juego Territorial

Episode 6 - El Juego de Salvación

Episode 5 - Desafío Territorial

Episode 4 - Con Hambre Celebran Su Triunfo

Episode 2 - El Desafio de Salvacion

Episode 1 - Inicia La Aventura
If You Like La Isla, Then Try...