Watch NBC Nightly News with Brian Williams
NBC Nightly News with Brian Williams has been watched by people since 2004. It has been reported that it is the most watched news show for the past 10 years. NBC Nightly News with Brian Williams is about the latest U.S. and International News. Brian Williams is the Anchor and Managing Editor for NBC Nightly News.
Brian Williams has a lot of hands on experience. He has covered several major stories over the years such as Hurricane Katrina. He reporting of that story helped NBC to win the famous Peabody award. He often goes to places where the news is happening such as Hurricane Katrina.
Because of his reporting on this story and others, he has become one of the most trusted faces in news. He has been reporting the news since 1981. He became more famous in 1993 when he joined NBC News. In 1994 he became the network's Chief White House Correspondent. Brian Williams has received several awards and was one of Time Magazine's 100 most influential people in the world in 2007. One top media observer has said that Brian Williams is the Walter Cronkite of the 21st Century.
When watching NBC Nightly News with Brian Williams you will get all of the day's headlines. Plus there are a couple of regular reports for you to enjoy as well. The Fleecing of America is news about how the government wastes your money. Lifeline is reporting about the current health trends in America. The In- Depth report is a longer look at major news stories. If you like your news in a clear and compassionate manner this is for you.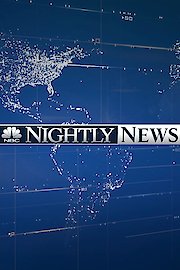 NBC Nightly News with Brian Williams

Full Episode Guide
Season 2016
(286 clips available)
Episode 43 - Fri, Feb 12, 2016

Episode 42 - Thu, Feb 11, 2016

Episode 41 - Wed, Feb 10, 2016

Episode 40 - Tue, Feb 9, 2016

Episode 39 - Mon, Feb 8, 2016

Episode 38 - Sun, Feb 7, 2016

Episode 37 - Sat, Feb 6, 2016

Episode 36 - Fri, Feb 5, 2016

Episode 35 - Thu, Feb 4, 2016

Episode 34 - Wed, Feb 3, 2016

Episode 33 - Tue, Feb 2, 2016

Episode 32 - Mon, Feb 1, 2016

Episode 31 - Sun, Jan 31, 2016

Episode 30 - Sat, Jan 30, 2016

Episode 29 - Fri, Jan 29, 2016

Episode 28 - Thu, Jan 28, 2016

Episode 27 - Wed, Jan 27, 2016

Episode 26 - Tue, Jan 26, 2016

Episode 25 - Mon, Jan 25, 2016

Episode 24 - Sun, Jan 24, 2016

Episode 23 - Sat, Jan 23, 2016

Episode 22 - Fri, Jan 22, 2016

Episode 21 - Thu, Jan 21, 2016

Episode 20 - Wed, Jan 20, 2016

Episode 19 - Tue, Jan 19, 2016

Episode 18 - Mon, Jan 18, 2016

Episode 17 - Sun, Jan 17, 2016

Episode 16 - Sat, Jan 16, 2016

Episode 15 - Fri, Jan 15, 2016

Episode 14 - Thu, Jan 14, 2016

Episode 13 - Wed, Jan 13, 2016

Episode 12 - Tue, Jan 12, 2016

Episode 11 - Mon, Jan 11, 2016

Episode 10 - Sun, Jan 10, 2016

Episode 9 - Sat, Jan 9, 2016

Episode 8 - Fri, Jan 8, 2016

Episode 7 - Thu, Jan 7, 2016

Episode 6 - Wed, Jan 6, 2016

Episode 5 - Tue, Jan 5, 2016

Episode 4 - Mon, Jan 4, 2016

Episode 3 - Sun, Jan 3, 2016

Episode 2 - Sat, Jan 2, 2016

Episode 1 - Fri, Jan 1, 2016
Season 2015
(180 clips available)
Episode 365 - Thu, Dec 31, 2015

Episode 364 - Wed, Dec 30, 2015

Episode 363 - Tue, Dec 29, 2015

Episode 362 - Mon, Dec 28, 2015

Episode 361 - Sun, Dec 27, 2015

Episode 360 - Sat, Dec 26, 2015

Episode 359 - Fri, Dec 25, 2015

Episode 358 - Thu, Dec 24, 2015

Episode 357 - Wed, Dec 23, 2015

Episode 356 - Tue, Dec 22, 2015

Episode 355 - Mon, Dec 21, 2015

Episode 354 - Sun, Dec 20, 2015

Episode 353 - Sat, Dec 19, 2015

Episode 352 - Fri, Dec 18, 2015

Episode 351 - Thu, Dec 17, 2015

Episode 350 - Wed, Dec 16, 2015

Episode 349 - Tue, Dec 15, 2015

Episode 348 - Mon, Dec 14, 2015

Episode 347 - Sun, Dec 13, 2015

Episode 346 - Sat, Dec 12, 2015

Episode 345 - Fri, Dec 11, 2015

Episode 344 - Thu, Dec 10, 2015

Episode 343 - Wed, Dec 9, 2015

Episode 342 - Tue Dec 8 2015

Episode 341 - Mon Dec 7 2015

Episode 340 - Sun Dec 6 2015

Episode 258 - Thu, Dec 24, 2015
Season 44
(787 clips available)
If You Like NBC Nightly News with Brian Williams, Then Try...
NBC Nightly News with Brian Williams News
PlayStation Maker Sony's Shares Start Friday At Three-Decade Low
What a way for Sony to start the weekend. The PlayStation makers yesterday reported a $5.7-billion FY2011 loss. That includes every PlayStation console - both hand-helds and the PS3 - posting sales declines. Today, Sony Corporation opened the trading day with shares trading at their lowest since 2008. Shares last started a day this poorly for the electronics brand clear back in 1980, when the Walkman was still new-fangled.
The Next Sexual Revolution? Hugh Hefner, Playboy Take On GOP
Well, there's a saying about this kind of thing: if you can't beat 'em, take to the pages of your magazine celebrating the nude female form and tell the Republican Party what's what. Playboy Publising/Sexual Revolution icon Hugh Hefner has apparently heard all he cares to from Rick Santorum, Mitt Romney, Newt Gingrich and others about how sexuality will destroy America.
Federal Judge Excuses Self From Trayvon Martin Killer's Case
The Florida federal judge who'd been set to preside over George Zimmerman's second degree murder trial has accepted a defense motion and excused herself from the proceedings, CNN has reported. Seminole Circuit Judge Jessica Recksiedler acknowledged Wednesday that her husband works with current CNN legal analyst Mark NeJame following a motion by Zimmerman defense attorney Mark O'Mara suggesting that her involvement compromises the proceedings.
Trayvon Martin Shooter George Zimmerman Facing Second-Degree Murder Charge
George Zimmerman, the neighborhood watch volunteer who shot and killed 17-year-old Trayvon Martin this past February, is in custody and officially now faces a second-degree murder charge. "We did not come to this decision lightly," appointed special prosecutor Angela Corey told gathered media late Wednesday afternoon, according to MSNBC.
Zimmerman To Be Charged In Trayvon Martin Shooting
Special prosecutor Angela Corey will announce at 6 PM ET that George Zimmerman will face criminal charges in the Feb. 26 shooting death of Trayvon Martin, NBC News has learned. The law enforcement official who informed NBC News correspondent Pete Williams of the forthcoming announcement on condition of anonymity did not disclose just what charges Corey would be filing.
Trayvon Martin Shooting Won't Go Before Grand Jury - Yet
Though an indictment against shooter George Zimmerman in Trayvon Martin's death may yet be coming, it won't arrive this Tuesday. It doesn't mean that there won't be charges against Zimmerman, who has claimed he shot the 17-year-old Sanford, Fla. young man in self-defense....simply that there's more investigation forthcoming.
Group Takes Initiative, Gathers Political TV Ad Data From Stations
With a presidential election approaching, political advertising scrutiny should reach a four-year high within the next seven months. Rest assured, as long as Pro Publica has its say, the public will have their advertising data from individual TV stations - whether the stations like it or not. Deadline reports that the activist journalist organization has figured out on its own just the route around the Federal Communication Commission's quandary concerning whether individual TV stations' political advertising data should be made available online.
Trayvon Martin's Parents Relive Every Parent's Nightmare
The night Tracy Martin couldn't reach his son Trayvon - the night the boy was killed - he didn't initially worry. He believed his son had simply been out for the evening with Tracy's nephew. Then morning came. No Trayvon. His phone still rang straight to voicemail. Then, "the nightmare began."
NBC Creates Media Triad To Cover 2012 White House Run
There's seemingly often more news to cover during presidential elections than people to cover them. With the 2012 run to the White House fast approaching, NBC hopes that partnering with Newsweek and The Daily Beast can remedy that.
Breaking News: Shots Fired at Virginia Tech, Gunman May Be Dead (Updated)
NBC is reporting that shots have been reported fired on the campus of Virginia Tech, the scene of a horrific massacre 4 years ago. The Virginia Tech website released a warning about gunfire and the entire school is currently on lockdown after a police officer was apparently shot by a white male suspect.
Watch NBC News' Brian Williams Handle a Fire Alarm Like a Boss
Ron Burgundy might get derailed anytime someone changes his teleprompter, but Brian Williams stops for nothing. A fire alarm repeatedly interrupted Brian Williams on "NBC Nightly News" on Tuesday night, but Williams wasn't going to let that stop him. Watch the video here.