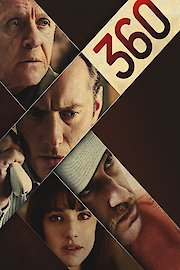 Watch 360
"Everything comes full circle"
R
2012
1 hr 50 min
43
360 is a thought-provoking drama from director Fernando Meirelles, released in 2011. The movie stars an ensemble cast, including Rachel Weisz, Jude Law, and Anthony Hopkins, and examines the interconnected lives of various characters in different parts of the world. The movie begins in Vienna, where we meet a young Slovak woman named Mirka, who works as a prostitute. She is visited by a British businessman named Michael Daly, who is in town for a conference. After their encounter, Michael struggles with guilt and fear while at the same time, Mirka faces a turning point in her life.
From there, the story jumps to Paris, where two young Algerian boys steal the purse of a woman named Rose. Rose is married to a wealthy businessman named Ben, who is currently cheating on her with a photographer named Laura. Rose's discovery of the affair and Ben's attempts to reconcile with her pull these characters into the larger narrative.
The story then moves to London, where Laura meets a Brazilian man named Rui, who is planning to move to the United States. The two of them get to know each other over the course of a few days, as they begin to fall in love, but are forced to confront the reality of their personal lives and the obstacles preventing them from being together.
Finally, the story returns to Vienna, where we meet a man named John who has just been released from prison. After reconnecting with his daughter and trying to start over, he is faced with a moral dilemma that forces him to confront his own personal demons.
360 is a film that skillfully weaves together different stories and perspectives to explore universal themes of love, loss, and the human condition. Through the characters' experiences, the movie examines the choices people make and the impact these choices have on their lives and the lives of those around them.
The film's strong cast delivers excellent performances, with Rachel Weisz shining in her portrayal of the conflicted Rose, while Jude Law and Anthony Hopkins offer solid supporting turns as Ben and John, respectively. The international cast also brings a sense of authenticity to the movie's global perspective.
The film's direction and cinematography are both top-notch, with Fernando Meirelles and his team using a variety of filming techniques to create a sense of intimacy and depth. The movie features both stunning scenery and intimate close-ups, all of which help to heighten the emotional impact of the story.
360 is not just a movie about people's lives, but also about the larger forces that affect them - such as economic inequality, immigration, and the interconnectedness of the world. Despite its complex themes and multiple narratives, the film is able to maintain a cohesive and engaging story that will keep audiences hooked until the end.
Overall, 360 is a thought-provoking and visually stunning drama that delves deep into the human experience. With its strong cast, skilled direction, and engaging storytelling, the movie is a must-see for anyone looking for a compelling and intelligent film.
360 is a 2012 drama with a runtime of 1 hour and 50 minutes. It has received mostly poor reviews from critics and viewers, who have given it an IMDb score of 6.1 and a MetaScore of 43.