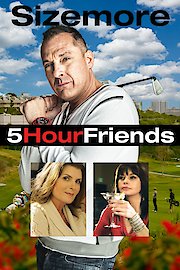 Watch 5 Hour Friends
"Things Are Looking Up..."
NR
2014
1 hr 37 min
5 Hour Friends is a thought-provoking drama from 2013 about Owen, a man struggling with alcohol addiction and loneliness, who develops an unlikely friendship with his therapist's daughter. Tom Sizemore plays Owen, a successful businessman who seemingly has it all - wealth, status, and a good job. However, behind closed doors, he struggles with alcohol addiction and a deep sense of loneliness, leading him to attend therapy with Dr. Carlson, played by Musetta Vander.
After several sessions with Dr. Carlson, Owen meets her daughter Jane, played by Kimberlin Brown, and they strike up an unlikely friendship. Jane is the complete opposite of Owen - free-spirited, carefree, and struggling with her own issues - but they somehow connect and enjoy each other's company.
The friendship between Owen and Jane is restricted, though, as they can only meet for five hours every week due to the strict rules set by Dr. Carlson. This limitation adds a layer of complexity to their budding relationship and soon becomes a source of tension between them, as Owen wants to spend more time with Jane but feels trapped by the rule.
As Owen continues to work through his addiction and build a stronger relationship with Jane, he starts to uncover some dark secrets about Dr. Carlson's past, which raises questions about the legitimacy of her therapy methods. Owen's desire to uncover the truth leads him down a path of self-discovery, confronting his own issues head-on, and making some tough decisions about his future.
The film's direction and pacing are excellent, allowing the characters' relationships to grow naturally and building a sense of tension that keeps the audience engaged throughout. The performances by Sizemore, Brown, and Vander are all exceptional, bringing depth and authenticity to their characters' struggles.
Overall, 5 Hour Friends is a captivating drama that tackles issues of addiction, loneliness, and the complexities of human relationships. Although darker and more serious than some of its contemporaries, the film delivers a heartfelt message about the importance of connection and finding happiness in life.
5 Hour Friends is a 2014 drama with a runtime of 1 hour and 37 minutes. It has received moderate reviews from critics and viewers, who have given it an IMDb score of 5.7.