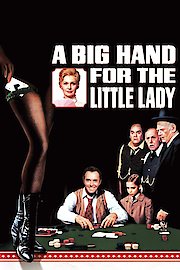 Watch A Big Hand for the Little Lady
"All the action you can take...all the adventure you can wish for!"
Approved
1966
1 hr 35 min
A classic western tale that will be viewed again and again by diehard western fans everywhere, this story is of a poker game with a surprising ending. Five Texas businessmen give up all of their important plans to compete in their annual poker game. A family of travelers is passing through and their wagon breaks down. The father of the family joins the poker game where he proceeds to lose all of the family's funds and then collapses. He begs his wife to take over the hand and finish the game as it is their only chance to get their life savings back. Does she win that last hand or does her family end up destitute? The only way to find out is by watching this classic 1966 film.