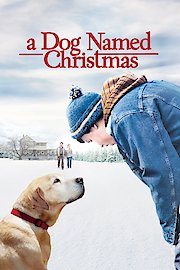 Watch A Dog Named Christmas
PG
2009
1 hr 35 min
A Dog Named Christmas is a heartwarming and family-friendly film that follows the story of a young man named Todd McCray, played by Noel Fisher. Todd has developmental disabilities, and his father, George (Bruce Greenwood), struggles with how to provide him with the right kind of support and independence. Todd has always wanted a dog, but his father is hesitant. After much convincing, George finally agrees to let Todd adopt a dog for Christmas from the local animal shelter.
As Todd and his new dog, Christmas, become more and more attached to each other, they begin to form a bond that changes both of their lives. The film captures the special relationship between human and animal, and showcases the importance of compassion and understanding.
The movie is set in rural Kansas during the 1960s, and it provides a glimpse into a simpler way of life. The town is small and close-knit, and the characters all come together to support one another during the holiday season. Throughout the film, viewers get to know the various town residents including Todd's Aunt Becky (Linda Emond), who acts as a caretaker for Todd, and the owners of the animal shelter where Todd finds Christmas.
The film also explores the issue of animal adoption and the importance of giving animals a second chance. Christmas was a shelter dog, and it is through Todd's compassion and care that he is able to find a loving home. The movie encourages viewers to adopt animals from shelters, rather than buying them from breeders or pet stores.
One of the most touching aspects of the movie is the relationship between Todd and his father. George is initially unsure about allowing Todd to adopt a dog, but he eventually comes to understand the positive influence that Christmas has on Todd's life. The film portrays the emotional journey of a father struggling to connect with his son and the power of an animal to bring them together.
A Dog Named Christmas is based on the novel of the same name by Greg Kincaid, and it is directed by Peter Werner. The film premiered on CBS in 2009 and received widespread critical praise for its heartwarming story and talented performances. It won the Genesis Award for Best Television Family Film, and it was nominated for two Emmy Awards.
Overall, A Dog Named Christmas is a touching and inspiring film that celebrates the power of love and compassion. It is a must-watch for animal lovers and families alike, and it reminds us of the importance of appreciation and empathy towards all living creatures.
A Dog Named Christmas is a 2009 kids & family movie with a runtime of 1 hour and 35 minutes. It has received mostly positive reviews from critics and viewers, who have given it an IMDb score of 7.4.